Reading opposing offenses is part of the job description for Jets defensive coaches Jeff Weeks and Tim McDonald. But the two did a different kind of reading when they dropped in on the students of Normandy Park Elementary School in Morristown, N.J., as part of the recent Read Across America events sponsored by the National Education Association.
"It's for a great cause and it's a great program," said Weeks, who has returned to head coach Rex Ryan's staff as assistant defensive line/linebackers coach. "I have a 10-year-old myself and he struggles reading, and I had problems reading myself as far as sitting down and doing it. So this was something that was really important to me because it hits home."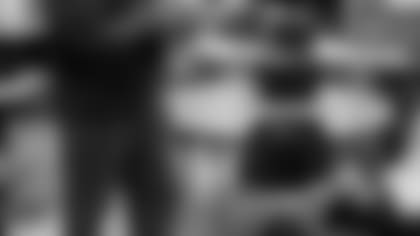 "Anytime you get an opportunity to present yourself in front of a kid in a positive manner, it's special," said McDonald, the former Cardinals and 49ers Pro Bowl safety who is now the Jets' defensive backs coach. "Guys like us coming over and reading means a lot to a lot of those young kids. It's something they'll remember for a long time. It was healthy for me as well as, I'm pretty sure, for them."
Nationally, more than 45 million schoolchildren and many celebrity readers participated in what the NEA has billed as the nation's largest reading celebration, which highlights the importance of developing a love for reading at an early age.
The two coaches, who work from adjacent offices on the first floor of the Atlantic Health Jets Training Center in nearby Florham Park, took a break from their duties in helping the Jets' preparations for the 2013 season to read for fourth- and fifth-graders at Normandy Park.
Weeks chose a book dealing with going on vacation, complete with family-friendly anecdotes about bonding with other members of the family during a holiday visit.
McDonald's choice? "I read a Shrek book to them," he said. "It was pretty interesting." And he made the choice without knowing the interesting connection between Shrek and the Jets back when Herm Edwards tied that 13-12 "ugly win" over the Panthers at Carolina in 2001 with the big green ogre who was just beginning his decade-long run into the nation's cultural conscience at the time. "I think when you do learn how to read better, you can take tests better," Weeks said, "and I think it's going to help you more in terms of your writing, spelling and those kinds of things. If you can enjoy reading at a younger age, it's going to benefit you more in life. And that's something they've done a great job of promoting with this event."