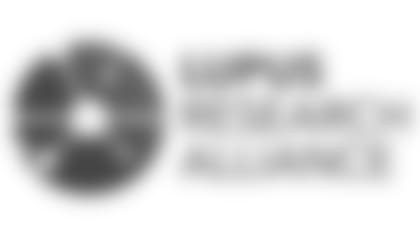 The New York Jets will host the annual Lupus Research Alliance New Jersey Walk with Us to Cure Lupus on Saturday, May 11, 2019 at MetLife Stadium in East Rutherford, NJ. At this year's Walk, the Jets are celebrating NFL100 - a year-long commemoration of the NFL's 100th season. As part of NFL100 the League is inviting fans, players, teams and employees to join Huddle for 100, an effort to inspire 1 million people to volunteer 100 minutes of their time to make meaningful contributions to their communities with the goal of reaching 100 million volunteer minutes.
All 32 NFL teams will host community huddles throughout the year, leading up to Super Bowl LIV, and the Jets have designated the Walk with Us to Cure Lupus as our #JetsHuddleFor100. The 5K (3.1-mile) walk will include refreshments, entertainment and special appearances by Jets players and Flight Crew Cheerleaders. Registration starts at 9 a.m. and the walk begins at 10 a.m. at the 50-yardline! Please join the Jets and contribute your 100 minutes to find a cure for lupus by volunteering at the Walk or forming a fundraising team of your own. To request more information on the Walk, visit lupuswalknj.org, email jgolombos@lupusresearch.org, or call the Lupus Research Alliance at (732) 610-2267.
The league-wide huddles will address a wide variety of causes and bring together communities in the spirit of service. The NFL will drive a season-long competition among teams by awarding monthly community-focused prizes to top-ranking clubs based on their number of volunteer minutes. One community-focused grand prize at the end of the season will be awarded to the team with the most fan and player participation. We encourage fans to boost our volunteer minutes and help us win by volunteering and using #JetsHuddleFor100.
If you cannot join us for the New Jersey Walk With Us to Cure Lupus, you can still support the Walk by bidding on Jets items and experiences at www.nflauction.nfl.com during the month of May (Lupus Awareness Month). All donation proceeds from items listed in May will go to the Lupus Research Alliance.
Lupus is a chronic, complex autoimmune disease that affects millions of people worldwide. More than 90% of people with lupus are women; lupus most often strikes during the childbearing years of 15-45. African Americans, Latinx, Asians and Native Americans are two to three times at greater risk than Caucasians. In lupus, the immune system, which is designed to protect against infection, creates antibodies that can attack any part of the body including the kidneys, brain, heart, lungs, blood, skin, and joints.
The Lupus Research Alliance is the world's leading private funder of lupus research.
The organization aims to transform treatment while advancing toward a cure by funding the most innovative lupus research in the world. The organization's stringent peer review grant process fosters diverse scientific talent who are driving discovery toward better diagnostics, improved treatments and ultimately a cure for lupus. Because the Lupus Research Alliance's Board of Directors fund all administrative and fundraising costs, 100% of all donations goes to support lupus research programs.
As of 2018, the Lupus Research Alliance has invested more than $200 million in 500 grants that support innovative lupus research, leading to key discoveries that are improving diagnosis and treatment, while helping researchers find the mechanisms to prevent and cure the disease.