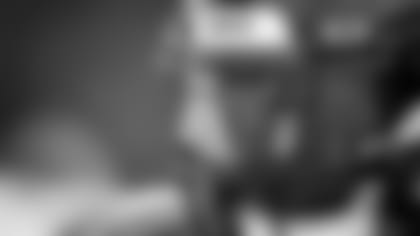 When it comes to the game of football, there are a lot of crunching numbers and predictive analysis that goes on behind the basic Xs and Os. On any given Sunday, an outsider looking in may be able to dissect the basic needs and areas of improvement for a team, but what about developing a strategy to get to the point of attack? For much of her career, NFL Network's Cynthia Frelund has provided answers.
"I noticed there was a void in being able to connect the dots and creating a strategy that was team specific to create the best product and chances to win, which is defined by a team," said Frelund, who works as a data scientist and predictive analyst expert — the first analytics expert for NFL Media.
Born and raised in Okemos, MI, Frelund began her path in analytics by graduating from Boston College with a B.S. in biology in 2005. She later received her MBA in finance, entrepreneurship and innovation and continued her work in the MS of predictive analytics at Northwestern University.
Taking the experience she earned through her education and having stops as a predictive analytics analyst for two years at ESPN and a finance analyst for the league, Frelund's goal was simple: develop new strategies through numbers and analytics that teams can use to create wins.
"It's really about having a plan, being collaborative and then executing that plan," said Frelund. "It's all about return on investment for the strategy you want to enact. So, if your strategy is to play defense with the pieces you already paid for — and the run defense for the Jets was a huge source of strength last season but the pass defense could use some work — reinforcing that with the right types of players at the right price is really how you create the best strategy to win, especially in a division that's anyone's."
Since starting with NFL Network, Frelund has appeared across multiple studio shows and platforms to provide statistical analytics understanding, and has brought an exceptional perspective to educate and update fans about the league's players and trends on a much deeper level. Through her work she has been able to collaborate with teams closely to help develop approaches in free agency, team needs, the draft, and more.
"Just like anything else, there's an element of trust and being able to deliver," Frelund said. "There's a level of trust that you understand what your audience is looking for and how they can find it. It's the same thing with analytics in sports. The good teams have a lockstep between coach and front office and their analytic staff in the scouts. They use all of the tools available in their tool belt, and analytics is one that helps create strategy. So, the more communication, trust and the belief the coach has in their analytics staff or person, and the more belief that the front office has, every team organizes it a bit differently and has a different reliance on it."