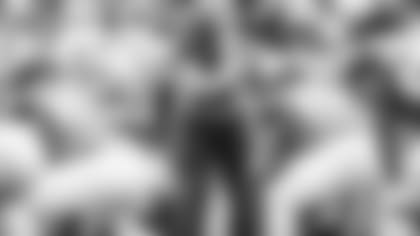 Jets general manager Joe Douglas told the media at the NFL Scouting Combine that corner and pass rusher are the two critical aspects of any defense.
"Obviously, like I said earlier about the wide receivers, the pass game is important, so you need guys that can affect the pass game on defense," Douglas said. "You're talking about corners and pass rushers, so it's going to be important for us to look at those two positions very closely."
The Jets finished 23rd in the NFL with 35 sacks last season and OLB Jordan Jenkins, who led the team with 8 sacks in 2019 and 7 sacks in '18, is an unrestricted free agent. The Jets can re-sign Jenkins before the new league year begins on March 18, but our focus here is some of the notable pass rushers who could be available.
Possible Franchise Tag Candidates
Jadeveon Clowney (6'5", 255): In his first year with the Seahawks, the former No. 1 overall pick totaled a career-low 3 sacks but had a career-best 4 forced fumbles. Clowney has 32 sacks in seven seasons (six with Houston, one with Seattle) in addition to 236 tackles, 71 tackles for loss, 9 FF and 14 pass defenses in 75 games.
Shaquil Barrett (6'2", 250): Sometimes a change of scenery is best for players and such was the case for Barrett. The former Bronco led the NFL with 19.5 sacks last season and tied for first with 37 quarterback hits in his first year with the Bucs (4 sacks was previous best in 2017). Tampa Bay has reportedly expressed interest in placing the franchise tag on him.
Yannick Ngakoue (6'2", 246): Ngakoue been productive in his four seasons with the Jaguars, registering 37.5 sacks and 14 forced fumbles. This past season, the former third-round pick had 8 sacks and 4 FF. He turns 25 later this month and has missed one game in his career. It was reported that Jacksonville plans to tag him, but Ngakoue tweeted he doesn't intend to sign a long-term deal with the Jags.
Matt Judon (6'3", 261): Judon had a career-year with the Ravens in 2019 with 9.5 sacks and 4 FF. Judon, a fifth-round pick in 2016, has 28.5 sacks in four seasons and 7 FF. The Ravens could use the franchise tag on Judon.
Best of the Rest
Vic Beasley (6'3", 246): Beasley led the NFL with 15.5 sacks in 2016 but hasn't totaled more than 8 in any other season. He had a career 37.5 sacks and 11 forced fumbles in five years with the Falcons. The former first-round pick started 15 games last season, which is the most since his rookie year.
Dante Fowler Jr. (6'3", 255): Fowler signed a one-year prove-it deal with the Rams last offseason after he was traded from Jacksonville to Los Angeles and it paid off. The former No. 3 overall pick tallied career highs with 11.5 sacks, 16 QB hits and 16 tackles for loss. Fowler, however, has registered 4 sacks or less in two of his four seasons (2016 & 2018).
Markus Golden (6'3", 259): Golden played for the cross-town Giants in 2019 and recorded 10 sacks (27 QB hits) after spending the first four years of his career in Arizona. He also had a career-high 72 tackles in addition to 13 tackles for loss. The sixth-year veteran had 12.5 sacks in 2016, but only recorded 2.5 in 2017-18 (15 games).
Jason Pierre-Paul (6'5", 275): Pierre-Paul has been productive for almost all his 10 seasons. The 31-year-old had 8.5 sacks, 16 QB hits and 2 forced fumbles last season with the Bucs. The former Giant has career 79.5 sacks and has eclipsed 10 sacks three times — 16.5 in 2011, 12.5 in '14 and 12.5 in '18.
Robert Quinn (6'4", 260): Quinn, another longtime veteran, had 11.5 sacks in his ninth season and first with the Cowboys. Would Jets DC Gregg Williams want to reunite with his former pass rusher, whom he coached in 2012, 2014-16 in St. Louis and Los Angeles. Quinn also played for Coach Adam Gase in Miami in 2018. His career numbers include 80.5 sacks, 145 QB hits and 24 forced fumbles.