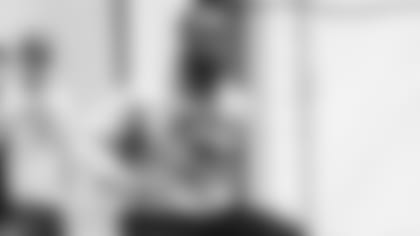 The numbers are in, or at least many of them, as Jets players have returned to the Atlantic Health Training Center for the start of Phase 1 of their offseason program under head coach Adam Gase.
It will come as no surprise that the two big unrestricted free agency signings — LB C.J. Mosley and RB Le'Veon Bell — will retain the numbers that fans in Baltimore and Pittsburgh respectively came to identify them by.
Mosley will wear 57, his numerals for his five seasons patrolling the middle of the Baltimore Ravens' defense. Not only is that C.J.'s number but it's one that Jets fans have cheered on when worn by LBs Mo Lewis from 1991-2003 and Bart Scott from 2009-12.
Bell will wear No. 26, his number for his first five seasons with the Pittsburgh Steelers. To get that number, S Marcus Maye had to shift to another number. More on that below.
G Kelechi Osemele retains his No. 70 from his three seasons with the Oakland Raiders. He had worn 72 in his first four NFL seasons with the Ravens.
CB Brian Poole comes in at 34, his number in three seasons with the Atlanta Falcons. CB Jeremy Clark takes a new number (see below).
QB Trevor Siemian will don No. 19 after always being lucky 13 — from Olympia HS in Windermere, FL, to Northwestern to the Denver Broncos (except for preseason of his rookie year of 2015, when he wore 3).
WR Josh Bellamy will retain his No. 15 from his previous two seasons with the Chicago Bears. In his first five pro seasons he wore either 11 or 17.
OL Tom Compton tries on his fourth pro number in his eighth pro season. He'll be 77 as a Jet after wearing 68 with Washington, 76 with Atlanta and Chicago and 79 last year with Minnesota.
K Chandler Catanzaro will wear 7, his number for all but four games (with Carolina at the end of last season, when he wore 4) in his five-year NFL career, including 2017 with the Jets.
Two returning Jets also have had number changes approved.
Maye, who'd worn 26 in his first two seasons with the Green & White, has shifted to No. 20, his number for all five seasons (including one redshirt season) at the U. of Florida.
And Clark, who'd been 34 at Michigan and with the Jets since being drafted in 2017, moves to 23.
Here uniform numbers remain to be assigned among them to UFA wideout Jamison Crowder.
Here is the list of Jets uniform numbers approved by the league for the eight newly signed players and two returning veterans:
7 — K Chandler Catanzaro
15 — WR Josh Bellamy
19 — QB Trevor Siemian
20 — S Marcus Maye
23 — CB Jeremy Clark
26 — RB Le'Veon Bell
34 — CB Brian Poole
57 — LB C.J. Mosley
70 — G Kelechi Osemele
77 — OL Tom Compton