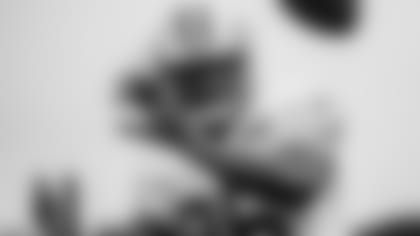 "It's going to be hard in the beginning, but worth it in the end."
That was Neal Sterling's answer when asked what advice he offered himself three years ago as he transitioned from wide receiver to tight end.
"I'd definitely tell myself to not get discouraged," he said. "I'd tell myself it's going to be hard in the beginning, but worth it in the end. It'll make you that much better of a player once you learn the position and overcome the obstacles that you have to go through."
Sterling was the Jaguars' 2015 seventh-round pick after four years at Monmouth where he tallied 212 catches for 2,615 yards and 22 touchdowns in 43 games. A Belmar, NJ native, he began his position switch in 2016 after then Jags head coach Gus Bradley saw more value for Sterling at tight end.
What's been the biggest difference between the two positions for the 26-year-old? The knowledge of the game.
"I never realized how much you have to know at the tight end position," Sterling said. "You're kind of like a second quarterback out there. They put you in so many different places that you have to know the passing game, the protections because you could be on the line blocking, and you have to know the run game. All that was a big smack in the face when I first started because I was used to lining up outside."
The 6'3", 240-pounder has recorded five catches for 51 yards in two Jets' preseason games as he missed Week 2 with an ankle injury. The fourth-year veteran flashed in training camp and the end of last season with his receiving ability, but he's focusing on his blocking to take his game to the next level.
"I'm always going to be able to run routes and be able to catch the ball," he said. "I have to be able to be at the point of attack in the run game, which I've been working on. [Tight ends coach] Jimmie Johnson has been working on it with me. He puts a real emphasis on blocking especially with me."
The Green & White will wrap up the preseason Thursday night against the Eagles and the Jets brass will have until Saturday at 4PM to trim the roster from 90 players to 53. Head coach Todd Bowles said tight end will be one of the most difficult decisions on whom to keep because "all five can play."
While Sterling is a harsh self-critic, he believes he just has to stay the course.
"I just want to stay consistent with everything that I've been doing," he said. "I think I've been playing pretty well in the games and getting opportunities to make plays. I just have to go out there, stay focused and keep doing what I've been doing."