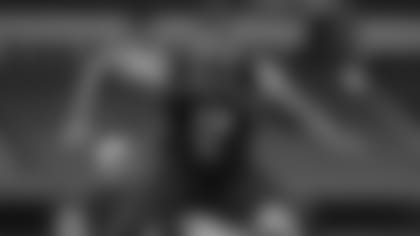 ESPN — Todd McShay
Round 1, No. 3, DT Quinnen Williams, Alabama
Round 3, No. 68, DE Zach Allen, Boston College
Round 3, No. 93, WR Kelvin Harmon, NC State
"Williams is ferocious in the middle, and I see him as a top-two talent in the draft class. Between Williams and Allen, the Jets take a solid step forward on the defensive line. Williams has a great first step, and Allen transitions from speed to power very quickly. By taking Harmon late in the third, the Jets get Sam Darnold a hands catcher with size"
ESPN — Mel Kiper
Round 1, No. 3, Edge Josh Allen, Kentucky
Round 3, No. 68, OL Michael Deiter, Wisconsin
Round 3, No. 93, CB Amani Oruwariye, Penn State
"This comes down to Allen or Quinnen Williams for the Jets, and both are going to be impact contributors as rookies. New York's biggest need is on the edge, however, so I lean toward Allen, the SEC Defensive Player of the Year who had 17 sacks last season.
The Jets are in a good spot here, and after trading up for Sam Darnolda year ago, they don't have a second-round pick in this draft. They do have an extra third-rounder from the preseason trade of Teddy Bridgewater (remember when he was a Jet?). Deiter is my second-ranked center, but he has some versatility as he played guard, center and tackle over 54 college starts. Oruwariye is a big, 6-foot-2 corner who had seven interceptions over the past two seasons. You can't count on third-rounders as immediate starters, but Deiter and Oruwariye could compete for spots."
The Athletic — Dane Brugler
Round 1, No. 3, Edge Josh Allen, Kentucky
Round 3, No. 68, CB Trayvon Mullen, Clemson
Round 3, No. 93, OL Bobby Evans, Oklahoma
Round 4, No. 105, WR Diontae Johnson, Toledo
Round 6, No. 196, OL Oli Udoh, Elon
Round 7, No. 217, S Jaquan Johnson, Miami (FL)
"While they weren't shy spending money in free agency, the Jets were unable to fill the hole at outside linebacker when Anthony Barr reversed course and re-signed in Minnesota. However, New York is able to address that need with Allen, who has the versatility that fits Gregg Williams' scheme."
Rotoworld — Josh Norris
Round 1, No. 3, Edge Josh Allen, Kentucky
"Could this be as simple as the Jets targeting Anthony Barr in free agency, agreeing to a deal, and it falling through, therefore the pick being Allen whose game might mirror Barr's?"
NFL.com — Charley Casserly
Round 1, No. 3, Edge Josh Allen, Kentucky
"The Jets need a pass rusher, but I wouldn't be surprised if they traded out of this pick."