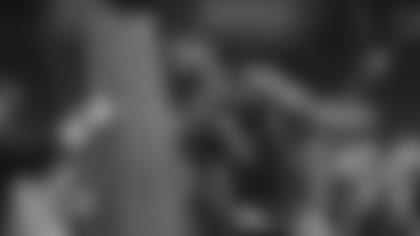 ESPN — Mel Kiper Jr.
Round 1, No. 3, Edge Josh Allen, Kentucky
"This is simple: New defensive coordinator Gregg Williams says he's sticking with a 3-4, and Allen is the best pass-rushing outside linebacker in the class. The Jets didn't address the position in free agency - they did spend a ton of money at inside linebacker C.J. Mosley -- so this is a clear need. The 6-foot-5, 262-pound Allen had 17 sacks and five forced fumbles last season. It's worth noting again that New York doesn't have a second-round pick because of the Sam Darnold trade-up last year. This is an important selection for GM Mike Maccagnan.
NFL Network — Peter Schrager
Round 1, No. 3, Edge Josh Allen, Kentucky
"Though this pick could be traded with the intention of adding more selections in the top 100, the Jets' roster is still missing a dangerous edge rusher. Allen had seven sacks during his junior season, decided to forego the allure of the NFL draft in '18, and responded with a 17-sack season in which he was named SEC Defensive Player of the Year. Based on the scouts I've spoken with, he's an amazing kid with great leadership qualities, too."
Bleacher Report — Matt Miller
Round 1, No. 3, Edge Josh Allen, Kentucky
Round 3, No. 68, OC Erik McCoy, Texas A&M
Round 3, No. 93 (via NO), CB Isaiah Johnson, Houston
"The New York Jets swung hard on free agent edge-rusher Anthony Barr and thought they had a grand slam, but it went foul as Barr returned to the Minnesota Vikings.
The Jets do have a much-improved roster after spending to sign C.J. Mosley, Jamison Crowder and Le'Veon Bell, but the hole on the edge of Gregg Williams' 3-4 defense is notable. With the No. 3 overall selection—and barring a trade back to a quarterback-needy team—the Jets can fill that hole.
Josh Allen is very similar to Barr was coming out of UCLA. He's a big (6'5", 260 lbs) edge who has experience playing off-ball linebacker. The versatility he brings to the table is perfect for Williams' scheme.
If the Jets can't get a trade offer for No. 3 overall, Allen should be the pick."
CBS Sports — Ryan Wilson
Round 1, No. 3, Edge Josh Allen, Kentucky
Josh Allen had a fantastic senior season, a strong combine and remains one of the best edge rushers in this class. With needs at edge rusher for the Jets, this is a no-brainer.