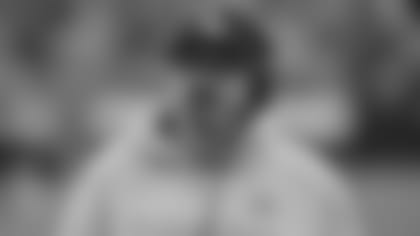 Who better to comment on Adam Gase and the Jets' signing of Gregg Williams as their new defensive coordinator than two of the greatest D-linemen to wear the green and white?
"A great hire," said Marty Lyons.
"He's got a nasty side to him," said Joe Klecko.
Williams, whose hiring was announced Wednesday, makes the Jets his 11th NFL stop with his ninth different team, and with seven of those teams hiring him as coordinator for his attacking 4-3 defenses and his fiery, aggressive approach to the game.
Lyons and Klecko, of course, were members of the most famous 4-3 in franchise history, the New York Sack Exchange of the early Eighties. Both are members of the Jets Ring of Honor. Lyons is the longtime radio analyst for the team and Klecko remains a strong Senior candidate for entry into the Pro Football Hall of Fame. And both like what Williams brings to the green equation.
"I think Gregg's a great hire," Lyons said. "His motor's going to be going 100 percent. You've got a guy who can draw up the X's and O's and he's going to turn the guys loose. And I think the other thing is he's going to hold everybody accountable."
"You know what I like about him? He's got a nasty side to him," said Klecko, known for his no-nonsense disposition during his playing days. "And experience-wise, I haven't seen too many young defensive coordinators come out of the gate and do real well. But then you look at Wade Phillips coaching out in L.A. with the Rams, and Bob Sutton with Kansas City who was the linebackers coach with the Jets. I think Adam chose wisely as far as someone with all the experience you can get in this league on the defensive side."
Lyons agreed with the pluses of Williams' nasty rep.
"I think any defensive coordinator that has a nasty side to him, and if you have a few players that have a nasty side to them, as long as it's controllable, it works," he said.
Both Jets greats are on board with applying pressure to their 2019 opponents and beyond, and why not? Klecko had a 20.5-sack season that "didn't count" (coming in 1981, one year before sacks became an official statistic), while Mark Gastineau had 22 sacks in 1984 that was the NFL record until 2001. And Klecko (20.5 sacks), Gastineau (20), Lyons (6) and Abdul Salaam (7) formed the foundation of the franchise's record 66 sacks in '81.
"I think it's disruptive for most quarterbacks just feeling people around you. When you get that, it's a problem," Klecko said. "There's one thing the Patriots do very well and that's protect the middle for Tom Brady. If Tom cannot step up, he's less effective. I think that's the thing about a defensive line. You have to do that. You have to make sure he feels you all the time."
Williams needless to say knows the importance of sacks. His Titans D's in 1999 and 2000, including playoff games, combined for 123 sacks and his Rams units posted 81 regular-season sacks in 2014-15. The Jets in 2018 cobbled together a better pass rush than many expected — their 39 sacks were in the middle of the pack while their 114 QB pressure unofficially came in No. 3. Now if only Gase, Williams and Mike Maccagnan's personnel team can mix in that monster pass-rush presence for 2019 ...
"I think what also will help is if maybe the Jets find a little bit more talent on that side of the ball," Lyons said. "They still have to have a Joe Klecko or a Mark Gastineau on the outside that has the speed and ability to match up, be an edge rusher, be able to get back there and to control the tempo of the game."