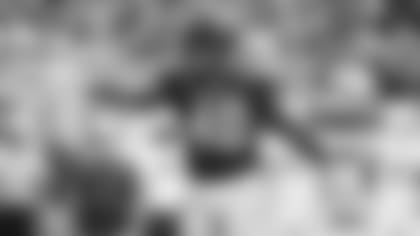 Everything old is new again, and so it is with the Jets-Giants rivalry, which will be renewed on Sunday at MetLife Stadium, Jets home game.
Green & White fans are used to coaches and players selling the line that the game is important only because it's the next game, nothing out of the ordinary. But new personnel come to both teams all the team — and one player, Leonard Williams, just switched colors last week. And so some reactions to the teams' quadrennial regular-season meeting are not what we'd expected.
Head coach Adam Gase, for instance, said at today's news conference that for him, Jets-Giants XV "is a cool game to be involved in now."
"It's something that probably didn't really hit me really until I was here for a little bit and just kind of realizing two teams in the same city, same stadium," Gase said. "You don't appreciate that when you're somewhere else until you're here, and then you kind of realize having two teams in the same city in New York, it's just different. I can see why there is a rivalry there.
"Going against these guys and playing them in the preseason and knowing a lot of those guys over there, it's going to be a fun matchup."
OLB Jordan Jenkins, who has been around for the last four Jets-Giants preseason games, played in the last three, but has never taken on Big Blue in the regular season, is another Jet who wasn't peddling the line about nothing special to see here.
"In my mind, I'm like, 'Aw, shoot, this is the Battle of New York.' Let's go. For me it's a special game. I got all my boys — I've known Leo since 2010, I've got Lorenzo Carter, Alec Ogletree, Deandre Baker," said Jenkins about Williams and three Giants defenders, all of whom are fellow Georgia products. "So yeah, this one is different because it's braggin' rights between me and the guys I played ball with back in the day."
Other Jets tipped their caps to the infrequently renewed rivalry but saw something more important to focus on Sunday.
"It's an instate rivalry, they're right down the road," said tackle Kelvin Beachum, getting closer to returning from injury. "We've got a great opportunity in front of us. It's in front of our crowd. So we've got to find a way to get a win."
"When you play in the same city as another team and share the same stadium, I think there's always some bit of a rivalry there," DL Steve McLendon said. "I think it is going to be some type of braggin' rights for one team or the other. But for me personally, I look at it as a great opportunity for us to showcase who we are a defense and a team. And most importantly, it's an opportunity to get a win."
Needless to say, both sides would like a win to pull them out of their separate slumps. A Jets win would even their record with the Giants at 2-7 while a loss would send them further into their one-win hole. So in that respect the Jets would need a victory this weekend against any team coming to MetLife.
On the other hand, a win would enable the Jets to trim the Giants' RS series lead to 8-6. It would return some sense of normalcy to "home-field advantage" in this rivalry (the Jets are 1-5 as the home team, 4-3 as the visitor). And it would be the Jets' second consecutive win over Big Blue, following up on their 23-20 overtime success as the road team in 2015.
So there are reasons to feel strongly both ways. But if you're of Jordan Jenkins' frame of mind, you can get enjoyment out of the rivalry as well as the game. As JJ said, leaving no doubt:
"I'm geeked up about it."