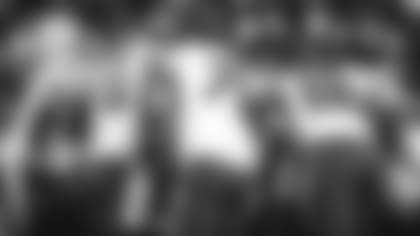 The 5-9 Jets didn't earn a postseason playoff spot for a ninth consecutive year, but they're not taking their foot off the gas.
"There's always room for growth and room to build," C Jonotthan Harrison said. "We're going to do everything in our power to finish this strong. Once that time comes, we'll handle any changes necessary. There's always room to grow and the plan to do so usually falls on the coaches and the front office. We as individual athletes go out there and work our craft to get better every single day and every single practice. We can't focus on the future. We leave that to the coaches and front office."
Coming off an extended rest following the loss to the Ravens Thursday night, the Jets will face another AFC North team, the Steelers, in Week 16. With two weeks left in the regular season, the Jets could spoil Pittsburgh's playoff chances Sunday.
"We try to approach every week the same," Harrison said. "We approach it as the next game and our goal is to win that game. We don't lean on the side of approaching a game with alternative motives whether it's spoiling clinching a playoff spot or whatever. We set the focus on winning the game and executing at a high level."
OLB Brandon Copeland added: "To be quite honest with you, I think with a game like this past week, you have to flush it and get back to who you are as an individual and a team. Clearly the goal is to win. We're protecting our home and all that type of stuff, but the focus needs to be on getting that bad taste out of our mouth."
The Jets ran for 103 yards in Baltimore as Le'Veon Bell rushed for a season-high 87 yards on 21 carries, which tied for the most this season (Week 2 vs. Browns). Last week was the second consecutive game the Jets had over 100 yards on the ground and it was the third time the team eclipsed the century mark.
"We did a great job of communication and execution," Harrison said. "Guys were really getting after it, playing physical. We're going to continue to keep ourselves to a high standard of playing physical and opening up the run game. In result, the pass game can open up as well because they do go hand-in-hand."
These next two games will test the Jets' pride. Copeland believes the way the team fights in Weeks 16 and 17 in Buffalo will reflect the character and culture of the locker room.
"When we start this thing up next season, this offseason, you're going to remember these next couple games," he said. "You're going to remember the entire season, but you're also going to remember these next couple of games. You'll remember if somebody folded, God forbid, you'll remember who's playing hard. That's going to determine how much you trust [players] next season. Not just as players, but I'm sure from a front-office standpoint and everything like that as well.
"There are things we can build on from a confidence standpoint, still things we have to do to grow as a team. We went through a lot of growth this season and hopefully we can get more growing pains out of the way, so the next year we can start off rolling."