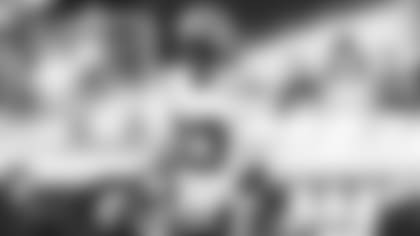 The Jets defense was out of rhythm early in the team's 29-15 road loss to the Jaguars. Gregg Williams' unit, who lined up without linebackers C.J. Mosley and Neville Hewitt in addition to DL Henry Anderson, initially tasted trouble on the game's second play from scrimmage as RB Leonard Fournette's 66-yard run set up the first touchdown of the game. The second big play came after QB Gardner Minshew escaped a sack from safety Jamal Adams, connecting with WR Chris Conley for a 70-yard TD. It marked the first time in three years that the Jets allowed two 60+ yard plays in one game.
"People kind of expect me not to make a mistake in a way, but it is what it is man," said Adams. "I'm out there trying to play ball and trying to make plays for this team, and I anticipated wrong. I take the blame. I don't run from it, I don't run from any adversity. I'm a man, so I'm going to take it. It is what it is."
On the Jags' second possession, Adams nearly came up with interception of Minshew but he was unable to corral the ball deep inside Jacksonville territory.
"At the end of the day I feel like I've got to play better. I don't point fingers at anybody," said Adams, who finished with six tackles and one pass defense. "I feel like I missed a sack, I missed an interception that I could have had that I got hit on—and it's not an excuse. I gave up that touchdown. But at the end of the day, I'm strong enough, you can put it on me. I'm not going to run from anybody, I never have and I never will. At the end of the day, we just have to keep our faith."
The Jets racked up two sacks of the Jags' rookie quarterback, but Minshew completed 65% of his passes for 279 yards with three touchdowns and the defense also allowed 8-of-17 third-down conversions. When the clock struck zero, head coach Adam Gase's team had committed 10 penalties for 83 yards, two of which came from the 24-year-old Adams. On successive plays in the third quarter, Adams was flagged for an unnecessary roughness penalty due to a late hit on Minshew and that was followed by a roughing the passer penalty.
"All we can do is continue to work, continue to stay together in this room. It's real tough, but we've got a lot of ball left in the season," Adams said. "I don't even want to get into, as far as the future as far as playoffs. We're not even focused on that. We're focused on trying to win a ball game. It's tough, but we're going to battle."
In the midst of disappointment, Adams is determined to keep pushing in the right direction.
"We're 1-6 man, it's been three years. It's frustrating, that's all. I just want to win," Adams said. "I will get it fixed. All we can do is just put our head down and stick together. At the end of the day, there has to come a time when enough is enough. That's all we can focus on right now."