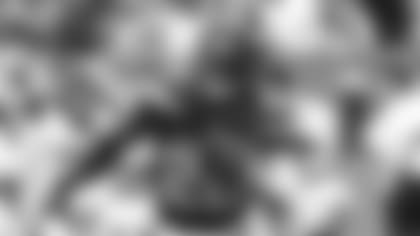 The Jets entered Sunday's game against the Dolphins with a slew of injuries and they didn't leave South Florida unscathed. RB Le'Veon Bell underwent an MRI Monday on his knee and the Green & White are awaiting results to determine the severity of the injury.
"I don't want to get too alarmed with Le'Veon without any information," head coach Adam Gase told reporters on a conference call. "When [the trainers] say they're still evaluating, it could be nothing and he just felt like something didn't feel right. It could be something else that I'm not even thinking of right now. It's hard for me to go anywhere mentally because I feel like it's so grey."
Bell had 25 touches in the Green & White's 26-18 loss to the Miami Sunday and totaled 121 yards, his second-highest output this season. The sixth-year pro played the entirety of the game and Gase said he was informed of the injury Monday morning.
"I haven't seen him yet," Gase said. "When I talked to the trainers, they said they were still going through everything and trying to figure out what's going on. I can't say exactly where it happened because he never said anything to me during the game or said anything after the game. I'm not really sure the extent of this."
In other injury news, NT Steve McLendon is being evaluated for a neck injury he suffered in Week 9 and WR Josh Bellamy (foot), S Rontez Miles (neck/hip) and CB Trumaine Johnson (both ankles) will continue to rehab throughout the week. Center Ryan Kalil, who was inactive with a knee injury, may practice later in the week and the Jets are hoping both LT Kelvin Beachum (ankle) and TE Chris Herndon (hamstring) will return to practice this week. Herndon suited up against the Dolphins, but the Jets already had seven inactive players and the second-year TE would've been the eighth.
"We were kind of seeing how he would feel going in to warmups, how he'd do moving around," Gase said. "He seemed to feel good before the game, (we'll) kind of see if that helps build on his confidence on where he's at with his injury."
Even though the Jets fell to 1-7 Sunday, Gase said second-year QB Sam Darnold had "a lot more good than bad" as he completed 69% of his passes for 260 yards with one touchdown and one interception. However, the Green & White played a similar tune against the Dolphins, unable to string together consistent success following an opening-drive score for the second straight game. Now on a three-game losing skid, Gase has been impressed with the way his team is sticking together, putting in work and finding ways to improve at practice every day.
"These guys are working hard to really turn things around," he said. "That's the No. 1 thing for us —those guys nailing down, focusing on getting better every day, not worrying about what happened the week before. Improve from the week before and correct the mistakes that we make but move on. They've done a good job of putting the practices together, we just have to do a better job on gameday."