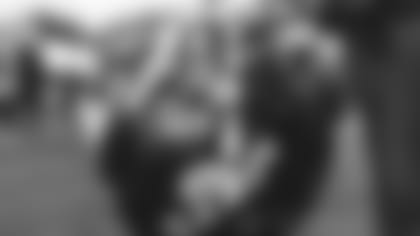 The Jets have placed LT Duane Brown, RT George Fant, G Nate Herbig, S Lamarcus Joyner and CB Brandin Echols on injured reserve. The team also signed WR Irvin Charles, T Adam Pankey, T Eric Smith, DL Bradlee Anae and S Will Parks to the active roster.
Brown (6-4, 315) started 12 games for the Jets at left tackle after signing with the team in August, appearing in 746 snaps on offense. The five-time Pro Bowler was most recently with the Seahawks from 2017-2021. Brown, the No. 26 overall pick in 2008, has started in all 215 games he's played in.
Fant (6-5, 322) played in eight games this season (seven starts), taking 518 snaps on offense. He played 15 games in 2021, 14 of which came at left tackle. Fant, who originally signed with the Seahawks as an undrafted free agent in 2016, signed with the Green & White in 2020 and has started in 36 of the 37 games he's played in.
Herbig (6-4, 334) was claimed by the Green & White in May after he played in 16 games (five starts) last season for the Eagles. He started 11 games for the Jets this season, starting in Week 4 at Pittsburgh, and took 706 snaps on offense. Herbig originally signed with Philadelphia as an undrafted free agent out of Stanford in 2019 and has appeared in 44 games (28 starts).
Joyner (5-8, 185) started 14 games this season after taking 9 snaps last season before tearing his triceps tendon, his first year with the Jets. This season, the 32-year-old had 57 tackles, a team-leading 3 interceptions, 6 pass defenses and a fumble recovery. In 110 games (73 starts), Joyner has 478 tackles, 7 interceptions, 39 pass defenses and 2 forced fumbles.
Echols (5-10, 175) appeared in 13 games this season. He finished with 8 tackles and 2 pass defenses on 69 defensive snaps while adding another 224 on special teams. A sixth-round pick out of Kentucky in 2021, Echols started 14 games last season and registered 63 tackles, 2 interceptions and 9 pass defenses.
Charles (6-4, 219) signed with the Jets in May as an undrafted free agent out of Indiana University of Pennsylvania. He began his college career at Penn State from 2015-17 before transferring to IUP. Charles played in all three preseason games this summer and had 4 catches for 27 yards on 81 offensive snaps.
Pankey (6-5, 313) signed with the practice squad Sept. 21 after a stint with the Dolphins. He originally signed with the Packers in 2017 as an undrafted free agent out of West Virginia and played close to three seasons in Green Bay before joining the Titans' practice squad in 2019. Pankey has played in nine games (one start) and taken 42 offensive snaps.
Smith (6-4, 308) signed with the Green & White's practice squad Dec. 14. He spent the summer with the Cardinals and the Giants before signing with the Jets P-squad on Sept. 6. and was released on Oct. 18. Smith first signed with the Dolphins in 2017 as an undrafted free agent out of Virginia.
Anae (6-3, 257) signed a reserve/future deal with the team last January. A Cowboys fifth-round pick out of Utah in 2020, Anae was waived by Dallas in November 2021 before re-signing to the practice squad. He appeared in 96 defensive snaps with the Jets in the preseason and had a 30-yard scoop-and-score fumble return to help beat Atlanta. He's played in 11 career games and has 2 tackles on 56 snaps in addition to 170 snaps on special teams.
Parks (6-1, 194) has spent time on the Jets active roster and practice squad throughout the season. He has appeared in 13 games and made 16 tackles, taking 185 snaps on defense and 138 on special teams. Originally a sixth-round pick of the Broncos in 2016 out of Arizona, Parks has played in 87 games (23 starts) and registered 205 tackles and 4 interceptions.