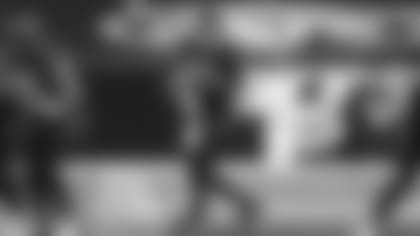 Injury Update
QB Sam Darnold sprained his shoulder in the team's 38-27 loss to Denver on Thursday night and is still being evaluated. Head Coach Adam Gase said that there are a lot of questions that need to be answered and that "anything is on the table" regarding Darnold's status.
"He doesn't feel real great today," Gase said. "We have to see what our management program is going to be with him. How does that look with practice compared to games? We have a lot to go through. We're 12 hours out from leaving the stadium last night, so we have some time to figure everything out before Wednesday."
LT Mekhi Becton was nursing a shoulder injury going into Thursday's game and was slated to backup Chuma Edoga. That changed four plays into the game when Edoga hurt his shoulder and Becton played two series before he was replaced by Conor McDermott. Becton's injury did not get worse, but it didn't get better either.
"His injury is really a strength and pain tolerance," Gase said. "It's not really a structural issue. When Chuma went down, Mekhi was like 'I'm going' and went in. He and [OL coach] Frank [Pollack] made eye contact there and he went in and tried to do as much as he could. I appreciate the fact that he tried to give it a go, but he couldn't do much. He didn't have enough strength to battle those guys and then we put McDermott in. If he was in risk of hurting himself even further, then he wouldn't have been able to go in. … I feel like he was trying to help the team out."
Edoga's shoulder injury might come down to his pain tolerance, according to Gase. In other injury news, RT George Fant (thumb) will play with a cast for a while. … CB Bless Austin (calf) is day to day as is OLB Jordan Jenkins (calf). … WR Lawrence Cager (hamstring) will miss a couple weeks, but the MRI "wasn't as bad as it looked on the field." … Gase expects the team to get some healthy bodies back this week. RB Le'Veon Bell and WR Denzel Mims are eligible to return from injured reserve for next Sunday's game against visiting Arizona, and WR Breshad Perriman (ankle) could return after missing the past two games. The extended time off following Thursday's loss to the Broncos should allow the Jets to get healthier.
'Fracturing Is Not an Option'
Like last year, the Jets are 0-4 after the first quarter of the regular season. The Green & White started 1-7 in 2019, stuck together and finished 6-2 in the team's final eight games. Gase said the team has to block out the outside noise once again.
"I talked to all those guys today about fracturing is not an option," he said. "We're four games in. We have to do a good job of putting our heads down and going to work, correcting the mistakes, fixing the stuff that's non-talent based and doing those things right first. Then your outcome is going to be different. We have to fix the controllable stuff for sure, the non-talent things. We have to get those fixed immediately and let's see where that takes us."
One "controllable stuff" are penalties. The Jets were flagged 11 times against the Broncos for 118 yards, 6 of which were defensive personal fouls. The team has committed 32 penalties this season. The defense extended all of Denver's scoring drives because of penalties -- minus RB Melvin Gordon's TD run with two minutes remaining -- including on the drive that led to Denver's go-ahead field goal.
"What happened yesterday, that can't happen and our strike zone has definitely got to be lower," Gases said. "We can't hit the quarterback in the head with any part of our helmet or our hands. Then when the ball is gone, we have to pull off. We can't be having these penalties because when we have it and it's third-and-3 and have a facemask on third-and-6, those penalties kill us. Then we have another one and an unnecessary roughness on first-and-10 on the series that puts them into field-goal range before we really do anything. We have to get all that cleaned up."
Steady Sam
K Sam Ficken has been consistent for the Jets through four games and made all five field-goal attempts against the Broncos. He tied the game,10-10, in the second quarter with a 26-yard field goal before getting the Green & White within one point (17-16) in the third quarter with 38- and 32-yard field goals. He then tied his career long in the fourth quarter with a 54-yard boot that cut Denver's lead to one possession, 27-19. Ficken, who hit 70.4% of his field goals last season, has made all eight of his FG attempts and all five of his extra points in 2020.