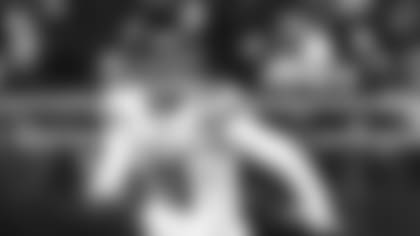 The adding season is only a couple of weeks away. While the Jets can continue to negotiate with any of their current players with expiring contracts, the NFL Free agency period will commence March 18. OvertheCap.com projects the Green & White have approximately $50 million in cap space, but that number can grow if the club makes additional cost-cutting moves. After re-signing veteran TE Daniel Brown, the Jets have 21 unrestricted free agents.
"We have a lot of guys that are UFAs and RFAs, 20-plus guys, but I do think there is a strong core here of young guys, guys that can be the foundation of a lot of success moving forward," said GM Joe Douglas at his season-ending news conference. "Right now, I feel good about a lot of these young guys and their growth and their arrows pointing up, so we have to keep adding to the culture. We have to keep adding to the locker room, to the building."
Before the market opens, here is the list of the Jets' 21 unrestricted free agents:
WR Robby Anderson: Last December, Anderson became the NFL's fifth undrafted free agent since 1970 to reach 3,000 receiving yards in his first four seasons. The 6'3", 190-pounder, who finished second on the Jets last season with 779 receiving yards and 5 TDs while averaging a team-high 15.0 yards a reception, has not yet had a 1,000-yard campaign. If Amari Cooper stays in Dallas, the 26-year-old Anderson arguably could be the most coveted young, talented wideout in this class.
T Kelvin Beachum: The 30-year-old Beachum believes 2019 was his best individual season. Over the course of eight professional seasons, the 6'3", 308-pound Beachum has made 99 career starts. He is a respected veteran who was named a team captain in 2019 for the first time in his NFL career. Beachum has the ability to play both tackle spots and it will be interesting to see how Douglas goes about reshaping his offensive line this spring.
CB Maurice Canady: Claimed off of waivers from Baltimore in November, Canady appeared in eight games for the Jets and finished with 19 defensive tackles and 3 special teams stops. The 25-year-old, a Virginia product who was a sixth-round pick of Baltimore in 2016, has played in 32 career contests.
G Tom Compton: After he joined the Green & White last March, the 6'6", 315-pound Compton initially was slated for a reserve role. But he moved into the starting lineup at RG in Weeks 11-15 after veteran Brian Winters, the only Jet lineman to start all of the team's first nine games, went to injured reserve following a shoulder redislocation.
OLB Brandon Copeland: A 10-game starter in 2018, Copeland was suspended for the first four games of the 2019 season for violating the NFL policy on performance-enhancing substances. In a reserve defensive role, the fifth-year veteran finished with 39 tackles and 1.5 sacks. Copeland also had 8 special teams stops.
P Lachlan Edwards: Edwards set the franchise net punting average record for the third straight season (40.5 to 40.8 to 41.6) and had the second-best inside-20-to-touchback ratio in franchise history, 9.3-to-1. The Jets signed Ian Berryman, Western Carolina's all-time leading punter, to a reserve/future contract in January.
QB David Fales: The well-traveled Fales, who has played under Adam Gase in Chicago, Miami and New York, spent the majority of last season as Sam Darnold's backup.
ILB Neville Hewitt: Thrust into a prominent role following injuries to starting Mike linebacker C.J. Mosley and athletic rookie Blake Cashman, Hewitt thrived under Gregg Williams. On the league's No. 7 defense, Hewitt ranked third with 78 tackles. He also added 3 sacks and 2 interceptions.
OLB Jordan Jenkins: Quietly, Jenkins racked up 15 sacks in 2018-19. He is a fierce competitor who has started 50 games since being selected in the third round out of Georgia in 2016. The physical Jenkins oftentimes sets the edge for a run defense that finished No. 2 overall (86.9 Yds/G).
C Ryan Kalil: The former Pro Bowler signed with the Jets Aug. 2 and started seven games before injuring his knee and finishing on injured reserve.
G Alex Lewis: Instead of playing a game of chance on waivers, the Jets shipped a seventh-round pick to the Ravens in August to obtain Lewis. Penciled in as a backup before the season began, the 6'6", 305-pounder ended up starting a career-high 12 contests.
ILB Albert McClellan: The 33-year-old McClellan appeared in five games for the Jets and tallied 5 defensive tackles and 5 special teams stops before suffering a concussion against the Cowboys in Week 6.
S Rontez Miles: A two-time All-American at Division II California (PA), Miles went undrafted in 2013 and then bounced around the Jets' practice squad and roster for a couple of years before becoming a lineup fixture. He was named a team captain prior to the 2019 campaign and had a team-leading 7 stops on special teams before neck and hip ailments forced him to injured reserve in November.
RB Ty Montgomery: Playing a reserve role in the backfield, Montgomery averaged 3.2 yards a carry and chipped in with 13 receptions. The veteran also had a team-high 18 kickoff returns, yielding 20.2 yards an attempt.
CB Brian Poole: A perfect fit in Gregg Williams' scheme, Poole thrived in his first year with the Green & White. He tied for fifth on the defense in tackles (62) and added 4 TFL, 6 PDs, 5 QB hits and 1 FR. After recording his first career safety in Week 1 vs. the Bills, Poole had his first career pick-six against the Raiders in Week 12.
RB Bilal Powell: The longest-tenured Jet led the backs with 3.9 yards per attempt and chipped in with 7 receptions. His 3,675 rush yards rank 8th on the Jets' all-time list.
T Brent Qvale: A fifth-year veteran, Qvale began the year on injured reserve due to a knee injury sustained in training camp. He was activated in December and appeared in three games down the stretch, starting the team's season finale against the Bills. In five seasons with the Green & White, Qvale played in 63 contests.
T Brandon Shell: The South Carolina product, a fifth-round pick of the Jets in 2016, made 40 starts from 2016-19 with the majority of his action taking place on the right side. Six of the Jets' 11 different OL starters can become unrestricted free agents.
QB Trevor Siemian: Following Sam Darnold's mono diagnosis, Siemian became the Jets' Week 2 starter. Unfortunately, the backup signal-caller's season lasted all of six passes before it came to an end when Browns rusher Myles Garrett hit him late and he suffered torn ligaments in his ankle.
WR Demaryius Thomas: Just 237 receiving yards shy of 10,000 for his career, Thomas came to the Jets following an unlikely swap with the Patriots in September. The four-time Pro Bowler became a team captain by November and turned 32 on Christmas.
OLB Paul Worrilow: After contemplating retirement, Worrilow joined New York's AFC representative in November. The seventh-year veteran was active in four games and did not record a statistic.