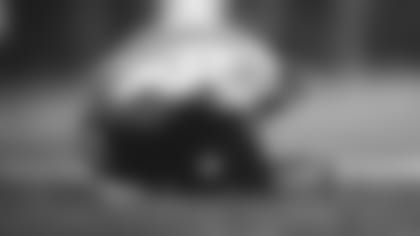 The Jets have elevated T Grant Hermanns and LB Hamsah Nasirildeen from the practice squad to the active roster for Sunday's game against the Steelers.
Hermanns (6-7, 300) was elevated from the practice squad the first two games of the season and took 5 snaps on special teams in Week 2 against the Browns. He signed with the Green & White in May 2021 as an undrafted free agent out of Purdue and was a final cut and then signed to the team's P-squad. Hermanns started all 33 games he played in college, all coming at left tackle. He was an honorable mention All-Big Ten in 2020 and a team captain in 2019 and 2020.
Nasirildeen (6-3, 215) played in 12 games as a rookie last season and started in two. A sixth-round pick out of Florida State in 2021, he had 10 tackles and took 60 defensive snaps. Nasirildeen also took 224 snaps on special teams. He started 17 games his last three seasons for the Seminoles, but only two games his final year in Tallahassee after rehabbing an injured knee. He totaled 233 tackles and 4 interceptions for his career, earning second-team All-ACC honors in 2019.