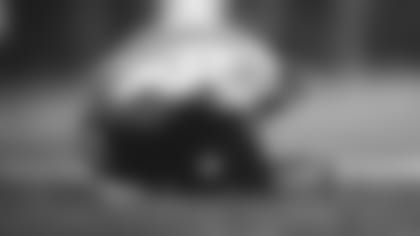 The Jets have activated T Cedric Ogbuehi and placed WR Jeff Smith on injured reserve. The team also elevated QB Chris Streveler for Sunday's game against the Seahawks.
Ogbuehi (6-5, 310) returned to practice earlier this week after missing four games with a groin injury. He signed with the Jets on Sep. 27 from the Texans' practice squad and has appeared in five games with the Green & White and started four, taking 221 snaps. Ogbuehi was originally a first-round pick out of Texas A&M in 2015 and played with the Bengals his first four seasons in the NFL before stints with the Jaguars (2019), the Seahawks (2021) and the Ravens (2021). He's started in 34 of the 65 games he's played in.
Smith (6-1, 195) played in 11 games this season and totaled 8 receptions for 134 yards. He took 141 snaps on offense and 86 on special teams before injuring his knee against the Lions in Week 15. Smith first joined the Green & White as an undrafted free agent out of Boston College in 2019 and has 34 receptions for 426 yards in 36 games (7 starts).
Streveler (6-1, 216) was elevated last week against the Jaguars and threw for 92 yards and 1 interception while completing 66.7% of his passes (10 of 15). He also had 9 carries for 54 yards. Streveler was also elevated for the Week 8 game against the Patriots but was inactive. He signed with the team on July 26 after a stint with the Cardinals in 2020. The former CFL Grey Cup champion played in 7 games in two seasons with Arizona, throwing for 141 yards, 1 touchdown and 1 interception while completing 68% of his passes.