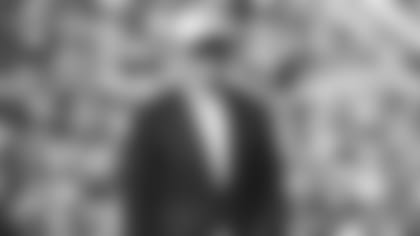 The Jets started 5-2 and the playoffs were within reach at 7-4 as meaningful football was at hand in December. But the season ended in frustrating fashion for the Jets and Chairman Woody Johnson as the club finished out of the postseason with a 7-10 mark.
"I think the best way to describe it is as a roller coaster, it was up and down," Johnson said of the 2022 campaign. "And with the down part of the last six games, you know, we're, we're tough, frustrating, very frustrating, because I see the potential of the team and, and what [GM] Joe [Douglas] has done, Joe and [HC] Robert [Saleh] have done in improving the team and getting all those young, unbelievable stars we have now. So, we have a lot of potential. So that makes it more frustrating."
Through the draft, Douglas and his staff added elite young talent in players like Sauce Gardner, Garrett Wilson, Alijah Vera-Tucker, Breece Hall and others. The Jets had four Pro Bowlers this year as DT Quinnen Williams thrived on a vastly improved defense with a career-high 12 sacks and free-agent addition D.J. Reed paired with Gardner to form arguably the NFL's top CB tandem.
But QB Zach Wilson, selected No. 2 overall in 2021, had an uneven second season and was benched twice as the offense never found its footing after the team's Week 10 bye.
"Yes, Zach, Zach had a, had a tough year," Mr. Johnson said. "There's no denying that. And so, I still have confidence that I've seen some kernels of real talent there. And we saw it both at Brigham Young University, but also the first two years he was here. But you know, the confidence level ,whatever it was, went down. So that was certainly frustrating for him. And then we had that rotation [four quarterbacks saw time during the season], which is very hard to do in the NFL, that's changing quarterbacks, because your timing is everything."
While Johnson said Wilson has "unbelievable talent" and the coaching staff will continue to work to develop him, the Jets Chairman said he's be open to paying for a veteran quarterback if Douglas and Saleh elect to go in that direction.
"That's kind of the missing piece," he said. "Defense was an unbelievable story that you saw this year from last place to close to the top in defense, in terms of points and in terms of any measurable. And if you could do the same thing and offense. I mean, it looks pretty good. Right? Our special teams is good. Brant Boyer. Great coach. So, I think we're set. It's just (we) have to deal with the offense and the quarterback."
Responsibility for helping develop Wilson will fall to a new offensive coordinator after it was announced on Thursday that Mike LaFleur has left the organization after calling plays for the past two seasons.
"I know that he's looking to improve and he's trying to do with the offense with what happened with the defense," Johnson said of Saleh.
Mr. Johnson added that he can add his "two cents" on the coordinator search, but ultimately would defer to his football people.
"I can argue and try to get a better decision," he said. "And maybe they'll think of something that they hadn't thought of. It's doubtful, really. But yeah, I can argue and that's, that's what I do. But the ultimate decision making is Robert Saleh, and Joe Douglas."
Johnson told reporters that he doesn't do mandates and his expectation is to make the playoffs every year. His intention is to get the team's fans more wins and the man who often refers to himself as the caretaker of the franchise says he'll do anything to make that happen for them.
"I want to give them what they want," Johnson said. "They want wins, and they deserve wins. I'm going to do everything I can to make it happen for them. No stone unturned."