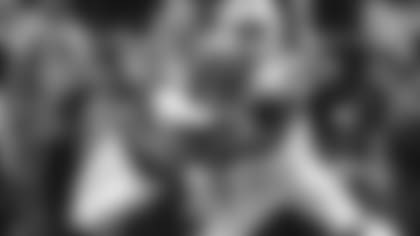 The Jets might not have known what condition they'd be in when they entered the AFC East wringer of Weeks 8-11, home for the Patriots and Bills, then their bye week, then at New England. But they knew last week they could climb to 6-2 with a win over New England. And heading into Sunday, they know they could be either 6-3 or 5-4 going into their bye.
For a franchise that was a combined 11-36 before its previous six bye weeks, either record would be sweet for the Jets but 6-3 much more so considering how improved the Jets feel they are and where they want to be headed through the second half of the season. "We've set ourselves up," GM Joe Douglas said, "to have a good opportunity moving forward to have success."
All the Jets have to do to get to 6-3 is slug it out with burly 6-1 Buffalo for a victory after a hard-fought 60 minutes of football.
To help the Jets come back strong after last week's game, there will again be a noon fireworks display signaling all tailgaters that it's time to head into MetLife Stadium and be in their seats for the player introductions and the fan-led national anthem. Also this week before kickoff, the Navy SEALs' Parachute Team, a.k.a. the Leap Frogs, will perform a pregame jump.
Then it will be time for the AFC East foes to skirmish on the MetLife turf, with these areas impacting the course of the game.
Buffalo Strike Force
It's hard to know where to start to defend against the Bills. They're No. 1 in the NFL total yards and pass yards/game, second in points and first downs. Josh Allen's touchdown drive rate is a gaudy 34.3%, second only to Patrick Mahomes' 39.1%. And Allen has targets such as WR Stefon Diggs, third in receptions, second in yardage and tied for first in TD catches, plus Gabe Davis, the league leader for receivers with 5+ catches with an unreal 26.1 yards/catch.
Maybe the Jets D can make some headway with the running game. Except while the ranking are moderate, the Bills have three ballcarriers averaging 4.5 yards/carry or better in Devin Singletary, Allen and rookie James Cook. Then does Nyheim Hines fit in this week? Just arrived via trade from Indy, Hines is a strong runner/receiver/punt returner who last year as a Colt burned the Jets for 108 scrimmage yards on 10 touches. Will he play Sunday? How much?
Yet the Green & White do have a very good and still improving defense. It will take that symbiotic relationship between front seven of Quinnen Williams, Carl Lawson and C.J. Mosley and the secondary of CBs Sauce Gardner and D.J. Reed and safeties Lamarcus Joyner and Jordan Whitehead to get opportunities to break up some downfield balls and come away with a takeaway or two.
Offense Seeks Quick Rebound
The offensive outlook is also focused on just one game. Can the Jets move the ball and score points vs. Buffalo's defense? Recent trends suggest maybe so. The Bills, even during their current four-game winning streak, have yielded more yardage each week, 296 at Baltimore, 364 vs. Pittsburgh, 387 at Kansas City, 398 vs. Green Bay. However, opponents' scores have been kept at or below 21 points all season.
QB Zach Wilson and the offense are trying to settle in with their shaken, rattled and rolled offensive line, set to play its fourth straight game together. Rookie WR Garrett Wilson and veteran TE Tyler Conklin are both coming off hot games. It's right around the time last year that then-rookie RB Michael Carter began to rack up the yards. It's possible WR Corey Davis (knee) could be available.
And Wilson wants to reduce his errors, increase his accuracy, convert more third downs and find those receivers wherever they may be. He believes it can and will be done. After New England he said, "We'll watch this film and learn and get better. I can get rid of those mistakes. We'll be good."
Another Turnover Tussle
Speaking of those takeaways, as Douglas and HC Robert Saleh have said this week, "We're going to be tough to beat when we take care of the ball."
The Jets needed a positive showing in the turnover war against New England. Instead, they got a negative-2 with three Wilson INTs compared to one Michael Carter II pick (and not including a Carter TD return nullified by John Franklin-Myers' roughing penalty). If winning the TO skirmish was important last week, it's doubly so this time around.
The Jets are at a zero margin for the season, Buffalo plus-2. But the Bills like to take it away as well as give it away. In particular, their 11 interceptions lead the NFL and their 14 TAs are tied for fourth. What this tells Wilson and the Jets offense is that errant throws such as those against the Patriots can and probably will be punished, even if S Jordan Poyer (team-leading four picks, elbow injury) sits out.
Meanwhile. the Jets defense must persevere and barge into Allen's kitchen. Yes, the fifth-year QB is dangerous and elusive. He also can turn the ball over — he's got eight GAs in eight games. The Jets effort will need that kind of contribution if they are to have a successful day.
Back to Special Delivery
The Jets' specialists had been at their best this season. Then vs. the Patriots, they hit a slump. Braden Mann's first punt was a shanked 22-yarder. Greg Zuerlein missed a 45-yard field goal. Braxton Berrios was stopped cold on two kickoff returns. The punt-cover team yielded a 32-yard return.
The specialists' and offense's miscues combined to produce a little more than a half of short fields for the Patriots. The "drives" to Nick Folk's final four field goals were 16, 34, 0 and 4 yards. Two came after interceptions, one after a long Greg Zuerlein FG miss and the fourth after the long punt return. The visitors' average drive start was their 43.1-yard line, the best drive-start metric for opponents since the Colts' 43.7 in 2016.
A return to special plays by the Jets special teams will be an important part of their game plan.
See the top practice images leading up to the Week 9 matchup against the Bills.