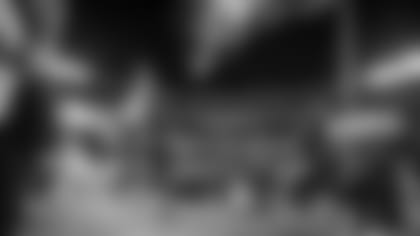 On Wednesday, the Jets announced their game initiatives and giveaway schedule for the 2021-22 season.
Beginning this weekend at the 2021 home opener, with the team welcoming back fans to MetLife Stadium for the first time since 2019, the Jets will host a different game initiatives and provide a number of free giveaways throughout the season.
The schedule features several league-wide celebrations, including Crucial Catch presented by Atlantic Health System on October 3, Salute to Service on November 14, My Cause, My Cleats on December 5 and Inspire Change on January 2. The team will also pay tribute to the 2021 Army vs Navy Football game on December 12, as the storied matchup is held for the first time at MetLife Stadium the day prior on December 11.
Fans can expect to see these initiatives activated throughout MetLife Stadium on gamedays with pregame activations, in-Stadium signage, and various promotional platforms including original content across Jets digital properties.
The Jets also announced giveaways for all fans in attendance on September 19 (Bud Light Welcome Back Fans Rally Towel), October 31 (Green Giant Rally Towel), November 14 (Salute to Service Flag), and a winter giveaway courtesy of Pepsi on January 2.
In addition, the Jets 50/50 raffle will return for the 2021 season. Fans will have the opportunity to purchase raffle tickets throughout MetLife Stadium for a chance to split the raffle jackpot with a highlighted charity each game.
Season and single game tickets can be purchased by visiting nyjets.com/tickets or by calling 1-800-469-JETS(5387). Discounts are available for groups of 10 or more by visiting nyjets.com/groups. Fans can also upgrade their gameday experience with a VIP luxury suite by visiting nyjets.com/suites.
Full 2021 Game Initiative & Giveaway Schedule
Sunday, September 19 vs. New England Patriots at 1pm | Buy Tickets
Presented by Bud Light
2021 Regular Season Home Opener – Welcome Back Fans!
Free Bud Light Welcome Back Fans rally towel for all fans in attendance
Sunday, October 3 vs. Tennessee Titans at 1pm | Buy Tickets
Presented by Atlantic Health System
Crucial Catch
Sunday, October 31 vs. Cincinnati Bengals at 1pm | Buy Tickets
Halloween
Free Green Giant Stealth Black Rally Towel for all fans in attendance
Anti-Bullying Awareness presented by Bethpage Federal Credit Union
Sunday, November 14 vs. Buffalo Bills at 1pm | Buy Tickets
Salute to Service
Free Salute to Service flag for all fans in attendance
Sunday, November 21 vs. Miami Dolphins at 1pm | Buy Tickets
Presented by ShopRite
First Responder's Day
Lupus Awareness Day
Sunday, December 5 vs. Philadelphia Eagles at 1pm | Buy Tickets
Presented by SAP
My Cause, My Cleats
Sunday, December 12 vs. New Orleans Saints at 1pm | Buy Tickets
Presented by Verizon
Army vs. Navy Game Tribute
Sunday, December 26 vs. Jacksonville Jaguars at 1pm | Buy Tickets
Sunday, January 2 vs. Tampa Bay Buccaneers at 1pm | Buy Tickets
Presented by Pepsi
Inspire Change
Pepsi Winter Giveaway To Be Announced