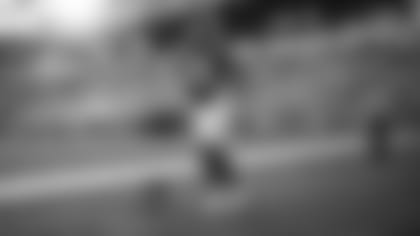 The Jets have activated OLB Frankie Luvu from injured reserve and placed CB Bless Austin on IR. The team also signed QB Mike White to the active roster.
Luvu (6-3, 236) sustained a groin injury against the Dolphins in Week 6 and was placed on injured reserve on Oct. 20. He was designated to return to practice on Nov. 18. He has 7 tackles this season and has played 119 snaps on special teams (71.3%). Luvu first signed with the Jets as an undrafted free agent out of Washington State in 2017 and has totaled 41 tackles, 6 tackles for loss, 4 sacks and 13 QB hits in 33 games (1 start).
Austin (6-1, 198) sustained a neck injury earlier this week and was listed as questionable for Sunday's game against the Chargers. He played in eight games (seven starts) and had 43 tackles, 2 tackles for loss, 3 pass defenses and 1 forced fumble. A sixth-round pick in 2019, Austin has played in 15 games (13 starts) for the Green & White and totaled 68 tackles, 2 TFLs, 7 PDs and 2 FF.
White (6-5, 218) was signed to the active roster for the Week 9 matchup against the Patriots and rejoined the practice squad after he was released on Nov. 10. He started the season on the practice squad, was signed to the active roster for the first three games and was released on Oct. 1 before he re-signed to the P-squad on Oct. 5. He was then called up for the Jets' Week 5 (Cardinals) and Week 6 (Dolphins) games before he was cut and re-signed to the practice squad.