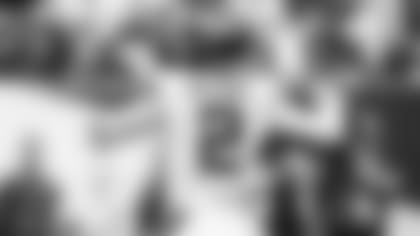 The long and short of it is that Zach Wilson and the Jets offense took a step forward against the Titans.
The long part is the fact that Wilson completed five more passes of 20-plus yards, all to his wide receivers. Even when the windows closed on him at Carolina and Denver, he still hooked up with his mates at the X, Z and F positions for at least two chunk plays each game.
He has 15 completions of 20-plus yards now, all to his WRs. And that prompts the question: When did that happen before in the first four games of a season in franchise history?
The most 20-plus completions to WRs in the first four games had been 13, set by Joe Namath in 1967 and equaled by Neil O'Donnell in '97 and Ryan Fitzpatrick in '16. Wilson has raised that bar with his 15 connections, six alone to Corey Davis.
Wilson & Co. will need some more downfield magic, preferably with a few more explosive plays in the first half, to catch up to Namath's pace in '67 and especially '68 when he pushed the bar through five games to 20 completions of 20-plus. Here are the leaders after 4 and 5 weeks (*total through 4 games):
Table inside Article

| Year | 4-Gm Tots | Jets QB | Year | 5-Gm Tots | Jets QB |
| --- | --- | --- | --- | --- | --- |
| 2021 | 15 | Zach Wilson | 1968 | 20 | Joe Namath |
| 1967 | 13 | Joe Namath | 1967 | 16 | Joe Namath |
| 1997 | 13 | Neil O'Donnell | 2021 | 15* | Zach Wilson |
| 2016 | 13 | Ryan Fitzpatrick | 1982 | 14 | Richard Todd |
| | | | 1997 | 14 | Neil O'Donnell |
The short part is that Wilson and the offense have been taking the checkdown pass when necessary.
When Zach threw passes that traveled 7 air yards or less vs. Tennessee, he completed 14 of 18, 78% accuracy, for 74 yards and a touchdown (3 yards to Jamison Crowder) for a 102.3 rating. Also on those 18 passes, he converted 4 first downs and didn't suffer a QB hit.
This is what HC Robert Saleh and OC Mike LaFleur have been preaching and Wilson has been practicing — " boring" football so you can surprise the opponent with some exciting long balls, like those 50-yarders to Keelan Cole and Davis last Sunday.
Tackling Machine Again
C.J. Mosley continues on his much-delayed Jets debut tour, especially in the leadership and alignment/assignment areas but also in one of his specialties: tackles.
The veteran LB's 13 tackles vs. the Titans gave him 10, 10 and 13 the past three games. That marks the first "triple double" of Mosley's NFL career, going back through his four 100-tackle seasons with the Ravens. It's also the Jets' first triple-double tackle stretch since Avery Williamson turned that trick in 2018.
Finally in this Mosley discussion: C.J. has 37 total tackles through 4 games. That's tied for 10th in the NFL and puts him on pace for 157 for this year's 17-game season. That would break his personal best of 133 set in his rookie season of 2014 in Baltimore. And it would be the most by a Jet since Jonathan Vilma racked up 173 tackles in 2005.
Matt Lowers the Boom
A Matt Ammendola note, and no, this is not about him attempting and converting his first extra points of the season in Game 4. It's about him drilling touchbacks on all six of his kickoffs vs. the Titans.
Since 1972, this is the ninth time a Jets kicker has had six-plus KO touchbacks in a game. Ammendola is only the second to have all touchbacks on six-plus KOs, joining Jason Myers, who was 9-of-9 at Detroit in the 2018 opener. And Ammendola thus is the only Jets kicker to go 6-of-6 or better in a Jets home game in the last 50 seasons.