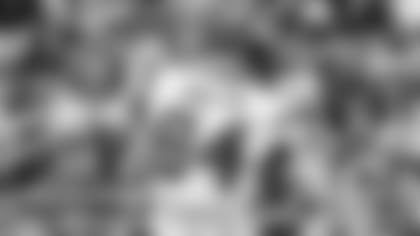 Some Jets fans might've been lulled into expecting little firepower from the tight end position this season, what with Chris Herndon's suspension/injury and the rest of the group's underwhelming use in the passing game.
"I would've felt better to contribute to a win — that's goal No. 1," Griffin told me this week. "In terms of our room, I felt like we all did our part to help out the offense any way we could, whether it was run-blocking or in the pass game. It just so happened the ball came my way. I don't think it was anything we did differently this week. It was just that the defense suggested we get the ball and Sam did a great job of running through his progressions and getting me the ball."
And Griffin did the rest. He caught five passes on five targets from Sam Darnold, four for first downs, two for touchdowns, and one (which doesn't count as a reception for stat purposes) for a two-point conversion, for 66 yards in all.
He was happy to hear that his 14 points scored were the fourth-most by a Jets tight end in a game in franchise history and that he was the Jets' first TE in 26 seasons to score more than 12 points in a game. Plus he was only the second NFL tight end in that span, or since the league went to the two-point conversion in 1994, to have at least two TD catches plus a deuce in the same game. (The Titans' Delanie Walker also did it in 2015).
Here are the four top-scoring tight ends in a game in franchise history:
Table inside Article

| Jets TE | Yr | Opp | TDs | 2PC | Pts | Score |
| --- | --- | --- | --- | --- | --- | --- |
| Richard Caster | 1972 | @ BAL | 3 | 0 | 18 | Jets 44-34 |
| Mickey Shuler | 1985 | vs TB | 3 | 0 | 18 | Jets 62-28 |
| Johnny Mitchell | 1993 | vs PHI | 3 | 0 | 18 | Eagles 35-30 |
| Ryan Griffin | 2019 | @ JAX | 2 | 1 | 14 | Jags 29-14 |
Griffin said being left wide open for that two-point lob from Darnold might have been a small glimpse at the Jets' multiple offensive options that we'd heard about but hadn't seen a lot of yet this year.
"I've got to thank the Jags defense there," he said. "I think with all the weapons we have, especially Robby [Anderson] outside and Le'Veon [Bell] coming out of the backfield, a lot of attention is diverted away from me. Anytime I get a chance to go up and make a play for the offense, that's what I'm willing to do."
We should get a chance to see a rejuvenated TE position at work soon, perhaps Sunday at Miami, when Herndon finally returns from his hamstring pull. Herndon had a promising rookie campaign with 39 catches for 502 yards and four touchdowns. And fans surprised by Griffin's production should check out the seventh-year man's career stats — he had 50 catches for 442 yards for the Texans in 2016.
"I'm really excited and looking forward to seeing how the coaches use us on the field in '12' personnel," Griffin said. "Chris definitely has a different skillset than I do and I'm looking forward to seeing how they use us, whether I'm in-line and he's split out or he's in the backfield and I'm split out. I  think we both take pride in being versatile in the offense."