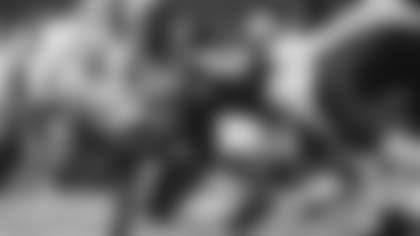 It can be difficult to mine some positive numbers out of a game like Monday night's loss to New England. But in fact, the Jets' run defense spent some quality time playing in the Patriots' backfield.
"We definitely talked about that this week," DL Leonard Williams told me. "I think we had about 15 run stops or something like that. We've noticed that it's just been a gradual increase every week now."
The run stops Leonard spoke of were plays on which the Jets tackled a Patriots runner for loss or no gain. Add two more tackles, both for losses, on receptions and the defense racked up 17 tackles at or behind the line.
That's not only very good — it's historically good. Unofficially, those 17 stops are the most by the Jets in any game since 1980. Here are the games with the Jets' most tackles for loss/no gain on rushes and receptions (not including sacks) in the last 40 seasons, including the individual tackle leaders:
Table inside Article

| Yr, Game | Opp | Plays | YdsLst | Leader |
| --- | --- | --- | --- | --- |
| 2019 Gm 6 | vs NE | 17 | 25 | K.Phillips (3.0) |
| 1986 Gm 2 | vs NE | 15 | 19 | M.Lyons (3.0) |
| 1985 Gm 15 | vs CHI | 13 | 17 | K.Clifton/B.Crable (2.5) |
| 1995 Gm 11 | vs BUF | 13 | 25 | M.Jones (4.5) |
| 1996 Gm 8 | vs BUF | 13 | 27 | M.Lewis (2.5) |
| 2004 Gm 8 | @ BUF | 13 | 27 | E.Barton (3.5) |
| 2010 Gm 1 | vs BAL | 13 | 18 | B.Scott/B.Thomas (2.5) |
Thirteen defenders in all had solo or assisted tackles on those Patriots stops. Newly returned LB Brandon Copeland (2.5 tackles) and Williams (2.0) led the veterans' charge, but the rookie linemen — Kyle Phillips (3.0) and Quinnen Williams (1.5) — also came up big. On 10 of those plays RB Sony Michel was the stuffee, including his last play, a jarring fourth-quarter collision with DL Jordan Willis.
Phillips, the free agent from Tennessee, leads the Jets for the season with 6.5 TFLNG, ahead of Neville Hewitt's 5.0 and 4.5 by S Jamal Adams and rookie LB Blake Cashman.
"I think that's one of the biggest parts, honestly," Williams said. "The rotation couldn't have been better last week, and because of that rotation, it's allowed us to play fresh on every down. We can trust the younger guys to not have any drastic falloff when they're out there, compared to the veterans. It's been great. Foley [Fatukasi], Kyle, Q, we definitely commend them on a great job."
Now you might be saying how did these defensive stops of zero, minus-1, minus-2, minus-4 yards at a time help in a 33-0 loss? Fair enough, but the Patriots are a unique threat. The Jets have stoned the NE run game before and Tom Brady merely turned to his short passing game, to RBs James White, Brandon Bolden, et al., to keep things rolling.
But not every opposing offense can operate that efficiently. What about the Jaguars at Jacksonville on Sunday? They have a resurgent ground game led by Leonard Fournette but also a rookie QB in Gardner Minshew who's cooled off since his hot start replacing the injured Nick Foles. Might he find himself hindered further in the passing game if his runners get bottled up?
That's the theory that the Jets would like to prove in rebounding from Monday night.
"Going into this week, it's a big challenge to get more run stops," Williams said, "especially on a team that prides themselves in running the ball. And we're a defense that prides ourselves on stopping the ball."
And as fellow D-lineman Steve McLendon said after the game about the run defenders, the entire D and the entire team, "We'll correct all three phases. We're a team that's going to ride together, we're going to stay together, we're going to continue to play together."