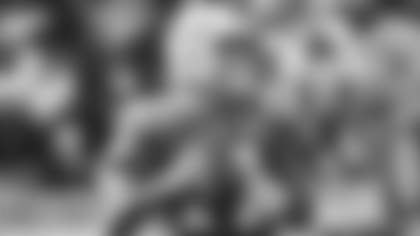 It's too early to brand Sam Darnold and Josh McCown as Thunder & Lightning in the Jets' running attack. But both QBs have established some esoteric rushing milestones in Green & White history.
McCown, you might recall, had four 1-yard rushing touchdowns last year, a one-season record for Jets quarterbacks.
What about Sam? He rushed for four first downs — two keepers and two scrambles — in the second half of the loss to the Vikings. The only other time a franchise QB had four rushing first downs in one half was back-back-back in 1960, when the Titans' Al Dorow moved the chains six times at Buffalo in the sixth game in franchise history.
"Oh, really? That's good to know," said Darnold, who, although a 21-year-old rookie starter, was aware of Dorow's place in Jets/Titans annals and interested in this distinction. But really, this trivia is only significant in how it captures running as part of Darnold's skillset.
"It's more pass-first, obviously. I want to be able to throw the ball, put the ball in my playmakers' hands," Darnold told me this week. "But at the same time, if there's room to run, I'm going to do the best I can to make yards for this team.
"If I see man coverage or maybe a zone and the 'backers are split, it just tempts me a little more to run. Especially when the D-line rushes upfield and if it's advantageous to run the football, then I'll run it. For me personally, it's more of just feel. If I feel it's there, I'm going to go run and make a play."
McCown said the two "always laugh about how much faster Sam looks in games than in practices. But it's always a reminder: Use your feet, they can be a weapon. You want to do everything you can to win from the pocket and be an accurate quarterback. But when they cover people, extend the play and do your thing with your feet. If it's not there, you have a chance to go get it. So he's done a good job of that, especially his awareness of where the sticks are."
We're not implying that Darnold is ready to graduate into the ranks of today's great rushing quarterbacks. It's just an anomaly that the Jets haven't really had a running QB since Dorow and none of their other mobile QBs have rung up more than three rushing first downs in a half since then. In fact, four QB rushing first downs in a half has already been done five times this season, including by Darnold's Sunday counterpart, the Bears' Mitch Trubisky, also last week:
| QB | Team | Opponent | Week | Half | Final |
| --- | --- | --- | --- | --- | --- |
| Cam Newton | CAR | @ DAL | Wk 1 | 1st | CAR 16-8 |
| Josh Allen | BUF | @ MIN | Wk 3 | 1st | BUF 27-6 |
| Cam Newton | CAR | @ WAS | Wk 6 | 2nd | WAS 23-17 |
| Mitch Trubisky | CHI | vs NE | Wk 7 | 1st | NE 38-31 |
| Sam Darnold | NYJ | vs MIN | Wk 7 | 2nd | MIN 37-17 |
Move Over, TO Margin
All coaches preach the importance of field position. Sunday's Jets-Vikes game was another example of how important.
The Jets' average drive start in their loss to Minnesota was their 27.3-yard line. The Vikings' average drive start was their 41.4. That's a difference of minus-14.1 yards.
When the Jets have a minus-12-yards differential or worse in starting field position, they've lost their last 26 games over the last 20 seasons, or since the start of 1999.
On the flip side, when the Jets have a plus-12-yards margin or better in the last 20 seasons, they're 39-1. The one loss was in the first game at then New Meadowlands Stadium, the 2010 season opener, when the Jets had a 16.9-yard advantage over the Ravens yet still lost, 10-9. Since then, the Jets are 19-0 in plus-12 games.