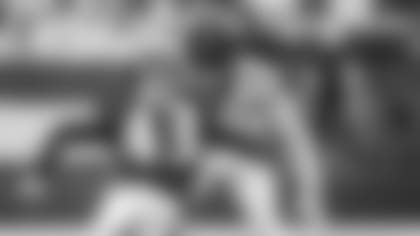 The outcome of the Jets' season opener was disappointing, but their young players showed flashes during the game that lead us to be excited for the future. Certainly head coach Robert Saleh is.
"I know that all the praise we've gotten in the offseason and for the draft picks and the free agents, all of that is real," Saleh said Monday. "We have a really, really cool team."
In fact, every member of the Jets' 2022 draft class except for inactive TE Jeremy Ruckert contributed something or some things cool that suggest better results are ahead for the Green & White. Here are some nuggets for the six drafted rookies who played the Ravens.
1A. CB Ahmad Gardner — He applied his first dash of Sauce Sauce to Sunday's game, including his first eye-opening pass defense as a pro. It came as he was covering TE Mark Andrews, whose two-inch, 55-pound size advantage didn't help him as Sauce executed the PD near the goal line. Gardner also played all 56 defensive snaps, the first time a Jets rookie corner has played every play on opening day since Dee Milliner went all 62 snaps against Tampa Bay in 2013.
1B. WR Garrett Wilson — Wilson's Jets career started slowly as the Green & White opened in a 3-TE look but picked up after that. And late in a game in which the Jets had run out of time, Wilson was the wideout they turned to on fourth-and-15 to try to make it a closer contest. And he didn't flinch, separating from CB Demarion Williams and latching onto the 19-yard throw from Joe Flacco that kept the hosts moving to their late touchdown.
A rookie target on fourth-and-long. That's unusual. In fact, Wilson unofficially became the Jets' first rookie since 1996, their first rookie in a home game, and only the fourth different rookie overall to convert a fourth-and-12 or longer in franchise history. The list:
Table inside Article

| Year, Game | Opp | Jets Rookie | Play | Converting |
| --- | --- | --- | --- | --- |
| 1972, Gm 13 | @ OAK | Jerome Barkum | 45 pass fr JNamath | 4th & 30 |
| 1976, Gm 4 | @ NE | Greg Buttle | 26 run (fake punt) | 4th & 17 |
| 1977, Gm 14 | @ PHI | Bruce Harper | 17 pass fr RTodd | 4th & 12 |
| 1996, Gm 3 | @ MIA | Keyshawn Johnson | 29 TD pass fr NODonnell | 4th & 29 |
| 1996, Gm 11 | @ IND | Keyshawn Johnson | 18 pass fr FReich | 4th & 16 |
| 2022, Gm 1 | vs BAL | Garrett Wilson | 19 pass fr JFlacco | 4th & 15 |
1C. EDGE Jermaine Johnson and 4A. EDGE Micheal Clemons — Johnson split a takedown of Lamar Jackson in the second quarter for his first pro sack and the first sack by a Jets rookie in a season opener since Sheldon Richardson divvied a sack with Calvin Pace on opening day in that aforementioned '13 lidlifter vs. Tampa Bay and their then-QB, Josh Freeman.
Clemons had a quiet stat line (2 assisted tackles), but he displayed his violent technique with a jolting bull rush on Baltimore backup LT Ja'Wuan James, who as a result had to depart the game with a serious ankle injury. We're not charting Clemons KOs of opposing players by any means, but said pass-rushing style will get him first pro sack in no time.
2. RB Breece Hall — Hall didn't score, so his personal 24-game rushing-TD streak he brought with him from Iowa State was snapped. And with a lost fumble in the red zone early in the fourth quarter, it wasn't a perfect debut.
But Hall was definitely a positive factor in the offense. His 10 targets as a receiver were the most by any Jets RB, rookie or veteran, in a season opener in the last 25 seasons. And his six receptions were the most by a Jets RB on opening day since players such as Curtis Martin (2000 and '01), LaDainian Tomlinson (2011) and FB Richie Anderson ('01) notched that many.
Then combining Hall's numbers with Michael Carter's nine targets and seven catches, it was neat to see the backs come back in a big way into the receiving picture. The Jets' 19 targets to their RBs was their most in an opener since 2000 at Green Bay and their 13 receptions their most in an opener in the last quarter century.
4B. T Max Mitchell — It was a rapid rise for Mitchell to go from being the 111th pick of the draft out of Louisiana(-Lafayette) in search of a roster spot and a position in the pros to being the designated RT starter on opening day due to the injuries to Mekhi Becton and Duane Brown and George Fant's re-re-relocation to the left side. But not only did Mitchell start but he held his own as he played in all 84 offensive snaps vs. the Ravens.
In doing so, Mitchell joined Alijah Vera-Tucker last year at Carolina and Mekhi Becton at Buffalo in 2020 as rookies who took every offensive rep on opening day. Before those three, you have to go back to before snaps were officially charted, to 2006, when LT D'Brickashaw Ferguson and C Nick Mangold, drafted together in Round 1 that year, played every offensive down not only in the '06 opener at Tennessee but in every game all season. (Nick missed one play all year, Brick none.)