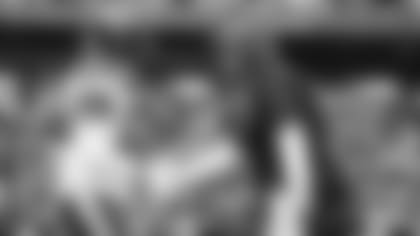 The shame of a game like Cincinnati is that good things get lost. Such as the Jets defense again not giving up any chunk plays.
In fact, for the second straight game the Jets did not allow a play of 20 or more yards. Andy Dalton and the Bengals did complete a lot of midrange passes for first downs but their longest play was a 19-yard pass to Auden Tate. The week before, the Raiders' longest play was also a 19-yard completion.
If that sounds like a rarity, that's because it is. The Jets had never in their history allowed no 20-yard plays in back-to-back games.
"It's just everybody being on the same page, everybody communicating, everybody doing their job," S Marcus Maye said of the pass defense in particular keeping opponents' passing offenses at bay. "The big thing is don't let the ball go over our heads and we'll be pretty good. So that's what we've been focusing on."
If the Jets limit the Dolphins on Sunday to zero or one such play, that would set a franchise mark for fewest 20-yarders allowed in three straight games. But the secondary could be under the gun. It could be without S Jamal Adams (ankle), CB Brian Poole (concussion) and CB Arthur Maulet (calf) as they contend with Ryan Fitzpatrick (24 completions of 20-plus) and WR DeVante Parker (12 receptions of 20-plus).
But coordinator Gregg Williams has fashioned a way through the injuries to guide the defense into the NFL's top 10 at No. 6 in total yards yielded heading into Week 14. And as Coach Adam Gase said: "He'll have to get creative this week, which I'm sure he doesn't mind."
Then There's the Run D. ...
The Jets' strong run defense is a part of the above chunk play trend, not having given up a 20-yard run since the Jaguars' Leonard Fournette burst free for 66 yards in Game 7. But the run D has been much more than that as it continues to lead the NFL in rush yards allowed/game (75.3) and yards allowed/carry (2.89).
The numbers suggest these numbers could continue against Miami, which is last in the league in rush yards/game (62.8) and yards/carry (3.11). But can the Jets maintain those averages and rankings over the last quarter of the season? They will be sternly tested in their two remaining road games, on Thursday night against Lamar Jackson, Mark Ingram and the Ravens' No. 1 rush offense, and in the season finale on Dec. 29 against Devin Singletary, Frank Gore and the Bills' fifth-ranked rush offense.
Coincidentally, two of the last three NFL defenses to hold opponents to less than 3.00 yards/carry were Ravens units. Here are the six teams to turn that trick since 1960, with the Jets attempting to become No. 7:
Table inside Article

| Team | Year | Yds/Att | Team | Year | Yds/Att |
| --- | --- | --- | --- | --- | --- |
| Boston | 1961 | 2.97 | Baltimore | 2000 | 2.69 |
| Philadelphia | 1991 | 2.96 | Minnesota | 2006 | 2.83 |
| San Diego | 1998 | 2.70 | Baltimore | 2007 | 2.84 |