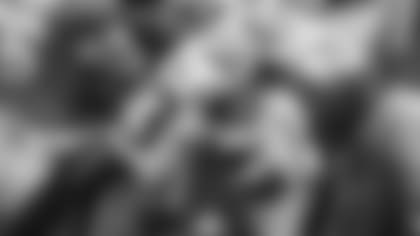 CBS play-by-play man Andrew Catalon said during Sunday's Jets-Dolphins broadcast what many around the NFL are saying and thinking about safety Jamal Adams: "He's quickly turning into a Pro Bowl-caliber player for the Jets."
And there's no better place to see Adams' growing prowess in the pro game than as the kingpin on the Jets' second-ranked third-down defense.
The confident second-year man turned in an interception and two pass defenses in the opener at Detroit, another PD in the backfield at Miami, and a tackle for loss against the Colts, all on third down. But perhaps the most unsung yet most impressive parts of Jamal's crunch-down game are his tackles.
In an unofficial metric that I've kept over the years, since 2007 LB David Harris annually led the Jets in tackles on third and fourth downs to prevent a conversion, usually with 10-plus. No defensive backs reached double figures in that span until Adams, as a rookie last year, led the Green & White with 11 such tackles.
He's already got a team-leading eight this year with seven games to play.
Adams was happy to hear about the numbers but he gave me an honest appraisal of what it means to rack up statistics and to have CBS dropping arrows on the screen to point out where he's lining up before each snap.
"I don't really pay any mind to it," he said. "I just try to go out there and be the best I can. Obviously you want to be one of the best in the game. That's why I go out there each and every day and every game and try to play as hard as I can. That's all I can do. One thing they cannot teach in the game of football is effort."
But the rest of it, especially on third down, he said, "is just mental and knowing what's coming and jumping routes and just making plays on the ball, period. So those are things that obviously I just want to do."
Adams also said feeding off of each other has led to the defense's rise to No. 2 in the NFL after nine weeks in allowing opponents to convert only 31.3% of their third downs, trailing only the Vikings. Here are the Jets' five best defensive third-down percentages after nine weeks since 1991 and their NFL rankings, along with how they finished in each of those seasons:
| Season | 9-Wk Pct. | 9-Wk. Rank | Final Pct. | Final Rank |
| --- | --- | --- | --- | --- |
| 2018 | 31.3 | 2nd | .......... | .......... |
| 2011 | 31.4 | 2nd | 32.7 | 4th |
| 1992 | 34.0 | 10th | 35.8 | 12th |
| 1991 | 34.1 | 5th | 36.8 | 11th |
| 2013 | 34.8 | 7th | 36.8 | 13th |
Marcus Maye, Adams' partner in deep middle crime against opposing offenses, notes Jamal's non-stop motor but also said of all his third-down mates that prep has been paramount to their success.
"We watch film in the morning, practice, watch film after, go home, watch film, wake up in the morning, watch film before meetings, go to meetings, watch some more film, so it's just a ton of preparation," Maye said. "Then within our group, we're starting to jell with everybody, knowing each other's personalities, so between that and the preparation, it allows us to play well on Sundays and have those third downs."
As for the best 3-D defenses in franchise history, we'll crunch those numbers later in the season if appropriate. For now, after holding Miami's offense to 3-for-16, a puny 18.8% conversion rate, it's on to the Bills, with the 31st-ranked third-down offense, at home Sunday. That sounds like a favorable matchup, but as Maye said softly and determinedly, "We've just got to keep it up."