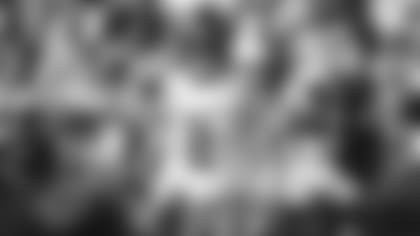 Zach Wilson has struggled through the first three games of his NFL career, for sure. But head coach Robert Saleh has several jobs. One is, as he has said, not to sugarcoat things for his players, including his rookie QB. Another is to note what he sees that others may not, and a third is to be a voice of positivity for his players as they make progress.
"He has been improving," Saleh said this week about Wilson's footwork, eye placement and reads. "Now he's just got to go show it. Even though people haven't seen the improvement, we're seeing the improvement for him. Now he's just got to go show the world."
OK, that's a biased opinion. But there are some statistical observations that might indicate reasons for a young QB to stumble out of the gate. The biggest is that Wilson has faced the toughest first three defenses of any quarterback, rookie or veteran, in the NFL this season, and second place isn't even close.
The defenses the Jets have faced are Carolina (1st in the NFL in yards allowed, 2nd in points allowed), New England (5th, 5th) and Denver (2nd, 1st). This chart shows the top "unlucky" teams in terms of how few points and yards their opponents have given up in their nine games combined this season. The Jets' opponents have yielded almost a full touchdown and 33 yards less per game than No. 2 New Orleans:
Table inside Article

| Team1 | Opps Pts/Gm | NFL Rank | Opps Yds/Gm | NFL Rank |
| --- | --- | --- | --- | --- |
| Jets | 11.9 | 1st | 231.7 | 1st |
| Saints | 18.2 | 2nd | 264.9 | 2nd |
| Dolphins | 18.6 | t-3rd | 296.9 | 4th |
Then there are the individual performances, and Wilson isn't the only young NFL quarterback who's scuffled. Here are some of the good and the bad of the rookie QBs as we look inside their passing and drive numbers:
Trevor Lawrence, Jacksonville — 1st QB taken, No. 1 overall
Lawrence had three starts and three losses (at Houston, vs. Denver, vs. Arizona) before leading the Jaguars at the Bengals on TNF. He has engineered 6 touchdown drives and his offenses have scored 41 points.
However, his turnover drive percentage is 33rd among 33 QBs with at least 14 possessions, a 25.7% rate (9 giveaways in 35 possessions). All 9 giveaways are his (7 interceptions, 2 strip-sack fumbles). Lawrence also has the highest 3-and-out rate among qualifying QBs at 40.0% (14 of 35). Lawrence and Wilson are the NFL leaders for most interceptions thrown, seven each, and lowest rating (Lawrence is at 60.3, Wilson at 51.6).
Trey Lance, SF (3rd QB taken, No. 3 overall)
Lance is faring the best of the first-year flingers, primarily because he has no starts and only seven plays quarterbacking the 49ers' offense spread across 6 drives. He has ended 2 drives with touchdowns, on a scoring pass in the opener at the Lions and on a keeper on Sunday vs. the Packers.
Justin Fields, Chicago (4th QB taken, 11th overall pick)
Fields has played in all three of the Bears' games, including extended relief for injured Andy Dalton in Game 2 and Sunday's start at Cleveland. Early on, he's struggled at No. 33 and last in the following drive categories: 4.40 plays/drive, 9.7 yards/drive, 2.20 drive yards/play and 5.0% touchdown drive rate. His 3-and-out drive rate is 30.0%, which comes in 31st.
Mac Jones, New England — 5th QB taken, 15th overall
Jones has fared the best among the rookies with all 3 starts for the Patriots, the win over the Jets and home losses to Miami and New Orleans. His offense has produced 4 TDs, 9 FGs and 54 points. His O has also turned the ball over 5 times, a 16.1% drive rate that is 28th among all QBs in the early going. The giveaways include the 3 interceptions he threw vs. the Saints, one returned for a touchdown. His TD drive rate is 12.9% (29th) and his 3-and-out rate is 22.6% (27th).
Davis Mills, Houston — 8th QB taken, 67th overall
Mills is a third-round pick and the only other rook to start a game this year, the Texans' 24-9 Thursday night loss vs. Carolina. On 14 drives he's got a TD rate of 14.3% that's just above Jones, tied for 28th with Indy's Carson Wentz. His 3-and-out rate of 35.7% is 32nd, just above Lawrence's 40%.
We bring up these nuggets not to put down any of the rookies but to point out that life for first-year starting QBs in the NFL is usually a bed of thorns before the roses bloom. We're confident Zach Wilson is about to make a growth spurt, perhaps as soon as the Jets' next three games, vs. Tennessee on Sunday, vs. Atlanta in London and at New England. Those three defenses have allowed per-game averages of 25.4 points and 338.4 yards in their first three weeks combined, much more favorable than Wilson and the Jets' first three foes.