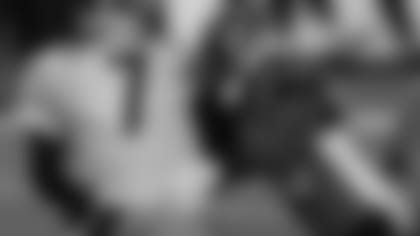 It's true that Carl Lawson, who signed as an unrestricted free agent with the Jets this week, doesn't have a lot of sacks in his career. Lawson's 20.0 sacks in four seasons with Cincinnati averages out to 5.0 sacks/season.
But he was one of the top sackers in that span for the Bengals, who produced the second-fewest sacks (123 or 31.0/season) as a team in the NFL from 2017-20.
And by another measure of pass-rushing prowess, Lawson is among the very best quarterback rushers in pro football. That measure is number of defensive snaps per QB hit.
Lawson, who lined up as a linebacker as a rookie before putting his hand in the dirt at RDE the past three seasons, has 83 QB hits in his career. Produced over the course of 1,881 defensive snaps, he put a whack on the quarterback every 22.7 snaps. For the top 100 NFL defensive players, regardless of position, with at least 33 QBHs the past four seasons, Lawson has needed less playing time than anyone else to get some piece of his body on the QB.
Here are the top five in defensive snaps/QB hit from 2017-20 (stats from 360.sportradar; Wake played three seasons):
Table inside Article

| Player | Pos | Team(s) | DSnaps | QBHs | DS/QBH |
| --- | --- | --- | --- | --- | --- |
| Carl Lawson | LB-DE | CIN | 1,881 | 83 | 22.7 |
| Cameron Wake | DE-LB | MIA-TEN | 1,317 | 55 | 23.9 |
| Joey Bosa | DE | LAC | 2,538 | 88 | 28.8 |
| Derek Barnett | DE | PHI | 1,880 | 65 | 28.9 |
| Aaron Donald | DE-DT | LARM | 3,488 | 120 | 29.1 |
Lawson is a friendly, chatty young man as he demonstrated in a short Zoom interview with reporters Thursday after signing his new contract. But that doesn't mean he'll agree with every theory thrown out there about his game, such as what he has to do to get his sacks to join his hits in double-digit territory.
"Whatever people say doesn't matter," he replied. "It's all about what's happening in this building, what I expect of myself. I'm constantly trying to improve. However long I'm blessed to play this game, that's what I'm trying to do is improve every aspect of my game."
GM Joe Douglas, head coach Robert Saleh and defensive coordinator Jeff Ulbrich did their homework on Lawson. It will be interesting to see Lawson get after the Jets' opposing QBs, how much he will help their pass rush and pass defense in the coming season, and if he can shoulder aside the memories of Joe Klecko, Mark Gastineau, John Abraham and Shaun Ellis and get him some pass-rush love from current Jets fans.
Hardee Specialist
Justin Hardee, the first UFA from outside the Jets to sign his contract with the Green & White on Thursday, is also in the first rank in the NFL in terms of percentage of snaps as a special teamer.
Hardee had 114 defensive snaps as a DB with New Orleans since his rookie season of 2017 but a whopping 1,113 special teams plays. If we build an NFL leaders list consisting of players with at least 1,000 total snaps from 2017-20 with at least 90% of those snaps coming on special teams, Hardee is 10th at 90.7%. That's a lot of kick coverage.