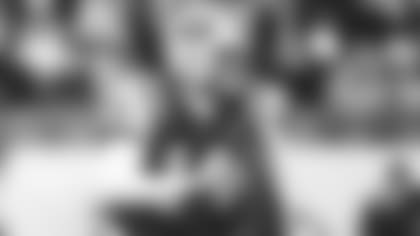 It would have been an NFL Films fantasy football feature, scripted by Steve Sabol and narrated by John Facenda from the grave, had Sam Darnold come in as the third pick of the draft and led the Jets all the way to Super Bowl LIII.
The always more realistic view was for Darnold to struggle a bit but to show his skills early and improve on them throughout his rookie season. And that's what has happened. Sam was asked what has led to his improvement over the last three games and heading into Sunday's season finale at New England.
"I think just settling my feet down, I think that was a big thing," he said. "Just calming my feet down and understanding where my checkdowns are, understanding what coverages that I can get the ball down to the back, what coverages I can expose in the defense and possibly hit a receiver down the field. I think that's really how I've grown the most and I'm just going to continue to try to do that and continue to grow with that."
All of us have our favorite stats to measure our most favorite (and least favorite) players. Here are three components of the Darnold package that have been impressive as we head down the 2018 home stretch.
Bright Red Zone
One amazing metric is that in his first nine games, Darnold led the Jets to nine red zone touchdowns, one a game. Through the first 13 weeks the Jets' RZ touchdown rate of 36.7% was a solid 32nd in the NFL.
In the last three games, Darnold has led ... nine red zone TD drives, three a game. In two of those games, Buffalo and Green Bay, he produced six TDs against top-10 red zone defenses.
In just Weeks 14-16, the Jets' 69.2% TD rate is tied for seventh in the league, and over all 16 weeks they have improved from 32nd to 29th.
Here is Darnold's red zone breakdown:
| | RZ Drives | TDs | FGs | TD% | Score% | Pts/Drv |
| --- | --- | --- | --- | --- | --- | --- |
| First 9 Games | 24 | 9 | 10 | 37.5 | 79.2 | 3.8 |
| Last 3 Games | 13 | 9 | 3 | 69.2 | 92.3 | 5.4 |
Driving Ambition
Another quick improvement came in Darnold's drive stats. For those first nine games, he was at the bottom of the drive metrics that I compile for all NFL quarterbacks, right above the Bills' Josh Allen and the Cardinals' Josh Rosen.
In the last three games, he's averaging very close to 6.0 plays/drive and close to 30 drive yards/drive. It's not apples to apples, but for the season Tom Brady's drive averages are 6.0 plays/drive and 36 drive yards/drive.
Darnold's TD drive rate is a sparkling 33.3% and he's reduced his turnover and punt drive rates. Only his 3-and-out rate remains high. Here are his drive splits:
| | Plays/Drv | Yds/Drv | TD% | TO% | Punt% | 3-Out% |
| --- | --- | --- | --- | --- | --- | --- |
| First 9 Games | 4.68 | 23.1 | 14.4 | 16.1 | 40.7 | 28.0 |
| Last 3 Games | 5.97 | 29.7 | 33.3 | 6.7 | 36.7 | 30.0 |
Pocket Protector
The last and perhaps the most eye-opening stat showing Darnold's improvements in the pro ranks is the number of strip sacks he's suffered in his rookie season: Zero.
This improvement hasn't been shown over the last three weeks but rather all season. One of the red flags on drafting Darnold was that at Southern Cal he put the ball on the ground too often and would have to work on it at the next level. Well, he's worked on it.
One who would know about these things is Henry Anderson, who has a career-high seven sacks. He thinks Darnold's strip-less rookie season could be explained a few ways.
"For one thing, the left tackle has played well," Anderson said with a hat tip to Kelvin Beachum. "Most of the time you get a strip sack, you're getting hit from your blind side. So Sam's blind side would be Beachum, Spencer [Long] and when Carp [James Carpenter] was playing.
"Sam also might have big hands. But I guess, like you would say it about running backs sometimes, you don't try to make something out nothing. If you're going to get sacked, you don't try to be a hero and pull out some miracle. You just take a loss and go on to the next play."
To put Darnold's (and Josh McCown's) zero strip sacks into perspective, if they survive the Patriots' fumble forcers, it will be the first strip-less season for Jets QBs since Joe Namath/Al Woodall in 1970. Another comparison: Sam's fellow top-10 rookies, the Browns' Baker Mayfield, the Bills' Josh Allen and the Cards' Josh Rosen, have suffered a combined 11 strip sacks. Here are the rookies' fumble and strip statistics for the season:
| QB | Plays | FUMs | Drops | Sacks | Strips |
| --- | --- | --- | --- | --- | --- |
| Sam Darnold | 753 | 4 | 412 | 26 | 0 |
| Baker Mayfield | 836 | 7 | 469 | 25 | 3 |
| Josh Allen | 655 | 8 | 321 | 27 | 3 |
| Josh Rosen | 714 | 8 | 398 | 39 | 5 |