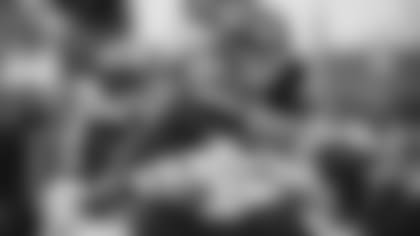 Sam Darnold and the Jets offense have been working through a rough patch, but Sam and the O did have a couple of different but interrelated upticks in their early production at Miami.
"We improved the last week in third down," coordinator Dowell Loggains said this week. "We were getting more snaps, more plays. Sam completed I think it was 69, 70 percent of his passes. You see progress. We're getting better that way."
The OC touched on both of those upward trends in his short analysis. Darnold's blitz-beating 15-yard hookup with Demaryius Thomas on a short out from a right-side trips formation got one streak going. That completion was the first of 10 consecutive completions, a streak that carried into the second drive of the second quarter.
It was Darnold's third long streak of the season. In the second half of the opener against Buffalo, he completed 14 in a row. And in the win over Dallas he was good for nine straight for 107 yards.
Add in his 9-for-9 in last year's December OT loss to Green Bay and Darnold's had four streaks of nine or more straight completions in a seven-game span. Josh McCown was the last to have three such streaks, in 2017. But the last Jets QB to do better in a full season or more was Mr. Accuracy, Chad Pennington, who had four such streaks in 2004 and seven hot hands in 2003-04 combined.
Darnold started out on target against the Dolphins not only on all passes in that first-half stretch but on third-down conversions. On those first two drives at Hard Rock Stadium, the Jets offense converted four third downs and fourth down. Four of those five conversions came on Darnold throws, three to Jamison Crowder and the one to Thomas.
Five "crunch-down" conversions in the first quarter is a somewhat historic franchise number. It's tied for the most conversions in an opening period on the road and tied for third in all Green & White games.
Here are the top eight third-/fourth-down conversion totals in first quarters in franchise history:
Table inside Article

| Year, Game | Opp | Conv | Att | Final |
| --- | --- | --- | --- | --- |
| 2009, Gm 16 | vs CIN | 7 | 7 | Jets 37-0 |
| 1987, Gm 11 | vs CIN | 6 | 7 | Jets 27-20 |
| 1962, Gm 9 | vs OAK | 5 | 7 | Jets 31-21 |
| 1980, Gm 6 | @ ATL | 5 | 5 | Jets 14-7 |
| 1986, Gm 6 | @ NE | 5 | 6 | Jets 31-24 |
| 2004, Gm 15 | vs NE | 5 | 7 | Patriots 23-7 |
| 2014, Gm 2 | @ GB | 5 | 5 | Packers 31-24 |
| 2019, Gm 8 | @ MIA | 5 | 7 | Dolphins 26-18 |
Of course, Darnold's early hot hand at Miami didn't avert the difficult loss. Sam and the Jets know full well that they need 60 minutes, not 15 or 30, every game.
"Sam played really well" at Miami, Loggains said. "He's getting better. It's those impulse plays that we are going to work really hard to try to eliminate and just being smart when things break down."
It would be great if the Dolphins start signaled that continuing improvement in the passing game and offense and that maybe a more extended stretch of success is just around the corner, let's say in East Rutherford on Sunday afternoon when the Jets host their MetLife Stadium-mates the Giants.