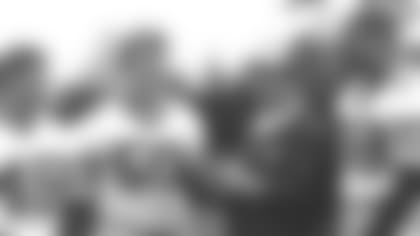 Walt Michaels, a long-time defensive coordinator for the Jets and head coach of the Green & White from 1977-82, has died.
"We are very sad to hear about the passing of Walt Michaels. Walt was a great leader who inspired players to take their games to another level," said Jets CEO Christopher Johnson. "A defensive mastermind, he had one of his finest moments when he coordinated our unit in the Super Bowl III victory over the Colts. Later as a head coach, Walt led us to back-to-back playoff berths in 1981-82. Walt had a tireless work ethic and took an honest approach with his players. He will have a lasting impact on our organization and our thoughts and condolences go out to his family and friends."
Taking over the Jets in 1977, Michaels led an NFL-high five-game improvement in 1978 and was selected NFL Coach of the Year by Pro Football Weekly and several other publications. Then in 1981, the Jets rebounded from an 0-3 start with a 10-2-1 run and entered the postseason as an AFC wild card. In the strike-shortened 1982 campaign, Michaels guided the team to a 6-3 mark before a pair of road postseason victories over the Cincinnati Bengals and the Los Angeles Raiders. He resigned shortly after the team's 14-0 loss to the Dolphins in the AFC Championship Game.
"I think what I'll remember most about him is the way he coached the game, and the way he got the most out of the players," said Marty Lyons, a Jets Ring of Honor inductee who played for Michaels from 1979-82. "He was hard-nosed, but he was what everybody needed at that time. We didn't have free agency, so he believed in the players and he believed in hard work. And he wanted to win — not just for the organization, but he wanted to win for the fans."
Michaels started his pro coaching career as a defensive line coach with the Oakland Raiders in 1962 before joining the Jets the following season in the same capacity under Weeb Ewbank. In 1967, he began coaching the secondary and the linebackers. He is credited with help molding the Jets' 1968 defense into No. 1 in total defense and rush defense. In the club's 16-7 Super Bowl III triumph over the Colts, Michaels coordinated a unit that held Baltimore scoreless until less than four minutes remained as the secondary recorded four interceptions.
He stayed with the Jets until 1973 and left for a three-year run as a defensive assistant with the Philadelphia Eagles before returning in 1976.
"He taught me how to do things and how to pick apart the weaknesses of players and know the strengths of players," said former Jets linebacker Greg Buttle, a third-round pick of New York in 1976 who played under Michaels through the 1982 campaign. "He was so precise with that, and I have to tell you he was never wrong. He looked at football as a chess board and it was all three-dimensional, it was geometry and it was angles. And he never put anybody that I know of in a position to fail."
The son of Polish immigrants, Michaels was born on Oct. 16, 1929 and grew up in Swoyersville, PA. His father was a coal miner who left indelible lessons with Michaels.
"My father died when he was 54 and he understood two things about football," Michaels said. "If you hit, you win. And if you won, you were successful."
Michaels played fullback, linebacker and guard at Washington & Lee while earning a B.A. in psychology and education. A seventh-round pick of the Browns in 1951, Michaels became a starter for Cleveland and missed only two games in his 10-year career. A five-time Pro Bowler, Michaels appeared in five NFL Championship games and was a contributor on title winners in 1954 and 1955. He came out of retirement in the 1963 Jets' opener at Boston, filling in for a decimated linebacking corps despite not having practiced for a couple of years.
He went on to professionally mentor several all-time Jets defensive greats including Gerry Philbin, John Elliott, Verlon Biggs, Al Atkinson, Larry Grantham and Ralph Baker. Michaels was the Jets' leading man in 1981 when the New York Sack Exchange tormented opposing quarterbacks with 66 sacks.
"Walt was different to me than anybody else," said Joe Klecko, who had 20.5 QB takedowns that memorable season. "The reason being is Walt reminded me of my father. My father was a very tough guy. Never took any nonsense, and excuses weren't in his bag just like Walt. If you did your job and did it good, Walt basically acknowledged it. If you didn't do your job, he gave you hell. So if you were really off his bad list, you were doing pretty doggone good. I think the one thing that a lot of people really missed with Walt was he wasn't too much for praise, and I liked that because that's how I grew up."
After his NFL coaching career, Michaels moved on to the USFL and led the New Jersey Generals to a 25-11 mark in two seasons and a pair of playoff appearances. Rigid but fair, Michaels knew how to get his point across.
"He was a good coach, knowing who to put in the right positions and he set himself up with good assistant coaches," said Bruce Harper, a versatile weapon for the Jets from 1977-84, "He created a really good team ⁠— we were a really good team. A team takes a little bit of everybody to put forth effort and to be able to work together, and he did just that. Everybody had their place and he's the one who choreographed the whole thing. We're all grateful. You won't hear anything bad about Walt Michaels. You might hear someone being afraid of him, but you won't hear anybody say anything bad about him."
Michaels died six years to the day after his wife, Betty, passed away. They had four children: Mary Ann, Walt Jr., Mark and Paul
"His work ethic did come from this area," Mary Ann told the Times Leader. "My father understood what hard work was. He never missed work — no sick days and no personal days. He never forgot his roots."
The intelligent Michaels lived with a simple approach and was a man to be taken for his word.
"He was a loyal, loyal coach to you. And you knew that what he said — he meant it. What you had to do was not worry about the horse, just load the wagon," Buttle said. "That's all he wanted you to do and I think that's what I best know him about. The simplicity of a man that was so deep and profound and a lot of people didn't recognize that about Walt Michaels, about how intelligent he was. He really was a student of the game and a student of life."