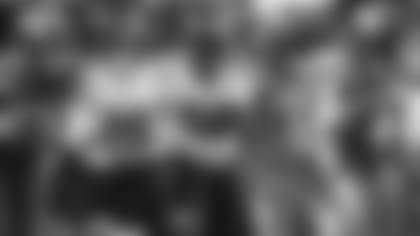 The playoff door slammed shut on the Jets again, this time in Seattle. But one way to keep their heads held high heading into the offseason is to play double spoiler in the season finale at Miami on Sunday.
Hal of the spoiler role comes from the Dolphins' own postseason hopes, which hang by a thread. At 8-8, they need to beat the 7-9 Jets AND have the Bills beat the Patriots to get into the AFC playoff grid. The Green & White also haven't scored a season sweep of the 'Fins since 2015 and haven't swept any AFC East opponent since taking two from the Bills in '16.
This will also be a matchup of problematic quarterback situations. Mike White is the Jets' starter again, but coming off of his rib injury and under heavy pressure from the Seahawks, he scuffled with 50% accuracy, no touchdown drives and three turnovers.
But Miami's QB scenario is similar to its Week 5 game at MetLife Stadium vs. the Jets. Tua Tagovailoa is in the concussion protocol, as he was then, and Dolphins HC Mike McDaniel said early this week that "I don't have a timeline, unfortunately," for his return. Which means it's likely either Teddy Bridgewater, who injured a finger in the loss at New England, or Skylar Thompson, who replaced him in that game, as he did very early in Miami's 40-17 road loss to the Jets.
Here are five Jets besides the QBs to watch in the final game of their second season under head coach Robert Saleh:
WR Garrett Wilson — It's been mostly a grand season for the first-round rookie, including his clearing 1,000 scrimmage yards vs. Jacksonville and 1,000 receiving yards last Sunday. But the Jets passing game continues along in fits and starts for various reasons. Wilson had 11 targets but only three catches for 18 yards vs. the Seahawks. If White can regain the groove he and Wilson were in vs. Chicago, when Garrett caught five passes for 95 yards and his two most recent scores, that would do a lot to fire up the Jets receivers vs. Miami's 27th-ranked pass defense.
RB Ty Johnson — While Johnson didn't run all over the Pacific Northwest in his first start of the season, he did pop a 22-yarder on the Jets' third play at Seattle and finished as the team leader with 46 yards on eight carries, the first time he'd led the Jets since erupting for 104 yards vs. Las Vegas in 2020. But whether it's Johnson again or Bam Knight or Michael Carter or all three plus James Robinson and Chris Streveler, what the Jets need is for their ground game either to break the plane — they had five rushing TDs in the home win over the Dolphins, their most in a game since 1993 — or at least run with authority to set up the passing game for some much-needed seven-pointers.
DL Carl Lawson — Quinnen Williams is about to put the crowning touch on his breakout season with the team leads and personal bests in sacks (12, tied for eighth in the league) and QB hits (28, tied for third). But Game 5 vs. the Dolphins was Lawson's Green & White coming-out party. His seven hits on Thompson were the most in an NFL game in four seasons, and his strip sack was recovered by Williams. Whoever pilots the Dolphins on Sunday, Lawson needs to bring the pocket pain, whether against LT Terron Armstead, who missed the Patriots with toe/pec problems, or backup Kendall Lamm.
CBs Sauce Gardner and D.J. Reed — We'd like to change up on the defensive players to watch but this is definitely another Gardner/Reed production. Tyreek Hill is second in the league with 117 receptions and 1,687 receiving yardage, while WR mate Jaylen Waddle has 70 catches for 1,312 yards and leads all qualifying pass-catchers with an 18.7-yard average. Yet in the teams' first meeting, with Tagovailoa out, Bridgewater KO'd after the first offensive play, and Gardner and Reed demonstrating their complementary coverage talents, Hill and Waddle combined for 10 catches, 70 yards and no TDs. Sauce snared his first pro pick as well.