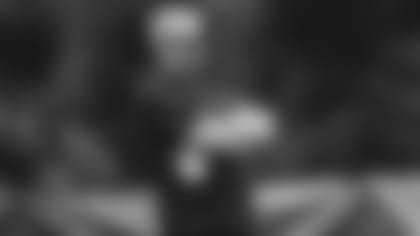 It's safe to say defensive coordinator Gregg Williams is familiar with the Jets' opponent this week.
"It does help a little bit, strengths and weakness and passing that on" said Williams on game planning against the Browns, his former team, since he's familiar with their system. "That's the fun part of mentoring young men that understand that maybe I'm more than just a coach, that I have a feel for the game, have a feel for people."
Williams spent the last two seasons with the Browns as their defensive coordinator and last season, he was named interim head coach and led Cleveland to a 5-3 record after Hue Jackson was let go.
"I had a very good experience over there the last two years, met some really good people and it's a really good organization," Williams said. "I enjoyed those two years over there a lot. It was kind of on my check list to go there at some point in time and it was good. Great facilities, good people in the building, good young team. I had a chance to mold and mentor a lot of the young players there and some of the other people in the building, too, and enjoyed living there. It's a good place."
Williams' fond memories of his former club hasn't held much weight this week since he isn't withholding state secrets as the Jets prepare to play his former club.
"I've had particular players and their matchups want to talk about certain things — strengths, weaknesses, counters, 'Can he do this, can he do that?' That's what we're for, that's what we do," he said. "Any time we pick up a guy that's been on another team, we have a debriefing process that I've taught many people many years ago."
The Jets defense has a tough test Monday, lining up against an offense with firepower on the outside in WRs Odell Beckham Jr., who questioned Williams' coaching strategy earlier this week, and Jarvis Landry. Even though Williams is familiar with Browns head coach Freddie Kitchens, who finished last season as their offensive coordinator, and QB Baker Mayfield, he's not wavering from his defensive philosophies.
"Attack, that's what we do. We don't react, we attack," Williams said. "We play hard and those guys over there, they know that. Those players over there know that, too, and all the really good players in the league know that. That's how you do it. Offensively, defensively, special teams, you do that."
While Williams had positive things to say about his former team, safety Jamal Adams thinks "G-Dub" will have a little extra juice come Monday.
"Obviously he has a chip on his shoulder about this game and we're definitely going to go out there and play for him," Adams said. "He's going to be in the back of our mind. I know he's going to be riled up. That's my guy. He's going to be ready to go and we all are. It's going to be a lot of noise talking out there. We just have to do it in the rules of play and we have to do our job at the same time, so we can't let that distract us."