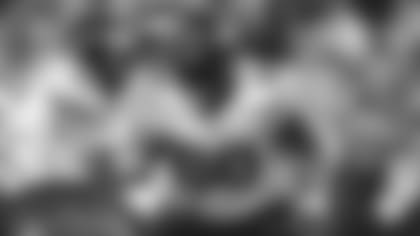 Connor McGovern likes the look of the green and white landscape as he heads into his second season as the Jets' starting center. Why would that be? Let him count the ways.
First and foremost is his health, and specifically the state of his knee after suffering an MCL injury late last season in the win over Jacksonville.
"I'm 100 percent," McGovern told Eric Allen on the most recent Official Jets Podcast. "I've been running, squatting, jumping, cleaning, snatching. I'm back to being able to play a game. If this was in season, I'd be 100 percent practicing every day and playing every snap. I feel really good."
This is great news for the Jets and their fans, not that there was much doubt about McGovern's return. He's a workout warrior, after all, and that has led to him some strong participation numbers — the injury ended his streaks of 57 consecutive starts and 73 straight games played. Despite missing the last two games of 2021, he's averaged more than 1,000 offensive snaps in each of the past four seasons.
He offered observations about a few of the key people he'll be working with for a second season. One of them is head coach Robert Saleh.
"My favorite thing about Coach Saleh is how he teaches, almost in a parable kind of way. He tells great stories that have great meaning and more than just on-the-field meaning. He's really leading men," McGovern said. "He's really a great leader and I enjoy playing for him."
As for playing with second-year QB Zach Wilson. McGovern lauded the line of communications the two have developed in a short time, and he provided insight on the improvement Wilson showed in the second half of his rookie season.
"I think Zach's going to have a phenomenal year," he said. "He has the ability to make that huge play. That's what makes quarterbacks in this league special. Then as the year went on, he got better at being more systematic. When that big play isn't there, just taking the checkdown, moving on and building up to that big play, instead of trying to make that highlight, SportsCenter play every single play. It takes a maturity to let that build and to capitalize when an opportunity comes."
McGovern then tipped his cap to general manager Joe Douglas and his staff, for adding some stirring offensive weapons last season but more so for bringing some exciting free agent veterans to the roster at several positions so far this offseason.
"If you watch the talking heads of football, they don't always talk about the Jets' offseason," he said. "We haven't had the blockbuster trades or whatever, but in my opinion the Jets have had the best offseason, in terms of patching places we needed to patch. I've been very impressed with this offseason. Every move has made me happy."
Which brought McGovern around to his home unit on the offense, to the OL room, and to what the Jets have done there by moving in eighth-year-veteran Pro Bowl lineman Laken Tomlinson at LG and shifting precocious pummeler Alijah Vera-Tucker to RG.
"To have a Pro Bowler next to you is going to be hard to beat," McGovern said. "Then obviously AVT is on a fast track to that Pro Bowl level, and for a guy his age and athleticism, him switching from left to right isn't a big deal."
Focusing on Tomlinson, who spent four of his five San Francisco seasons working with current Jets OC Mike LaFleur and current Jets OL coach John Benson, he said, "Laken's been in the system for, I think, his whole career, and with JB every year except last year. So he's definitely not a greenhorn in this system. He'll come in and instantly be a leader and actually have more experience in it than anybody else.
"As an offensive line," McGovern summed up, "we're in great shape. We have to be one of the better offensive lines on paper. We just have to come out and prove the paper's telling the truth."