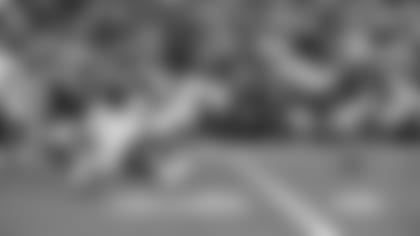 Like many NFL analysts, NFL Network's Brian Baldinger believes the Jets have to keep the focus on the offensive line.
"I think he [Joe Douglas] did a lot in free agency as we all know right now, but I think he has a lot more to do," said Baldinger of Jets GM Joe Douglas. "It was very clear that he told Sam Darnold's parents, 'I'm going to get Sam protected, he's not going to be a sitting duck back there.' I think he comes from two organizations in Philadelphia and Baltimore where he's been a big part of winning Super Bowls. On both of those teams, they had tremendous depth on the offensive line."
He added: "They invested on the offensive line, they spent resources on the offensive line. When they lost one player, they were replaced by another player of almost near quality. I think Joe is looking at this draft and there are some top-end tackles and offensive linemen in this draft."
Douglas has spent the majority of his professional career with two organizations, the Ravens and Eagles, and he captured three Super Bowl rings with the two teams over an 18-year span. Both teams invested heavily in their offensive lines, making protection a priority. Baltimore had a Hall of Fame performer lead their line in LT Jonathan Ogden and Philadelphia also had a rock and potentially Canton-bound LT in Jason Peters. In Baltimore, Douglas helped scout for future Pro Bowl guards Ben Grubbs and Marshal Yanda. Last spring, Douglas was vice president of player personnel for the Eagles when they traded up from No. 25 to 22 in order to select Washington State T Andre Dillard.
Since the start of free agency, Douglas has added five offensive linemen to the Jets roster: Josh Andrews, Greg Van Roten, Connor McGovern, George Fant and Alex Lewis. Although Douglas has improved the depth in the trenches, Baldinger believes he will continue to hunt for a one-of-a-kind talent up front.
"I think if the Jets lined up and played Week 1 tomorrow, they could line up and play right now," said Baldinger of the revamped O-line. "Douglas has been around two Hall of Fame left tackles, so that's his standard. George Fant is still very young and raw to a degree, but he will play a lot of games, and he's played well. I think when Joe looks at an offensive line, he's looking to anchor it with a near or HOF-type player. There might be those level of players in this draft, and if Joe has a chance at getting one, he's not going to turn that down."
Besides the offensive line, the Green & White could also continue to tinker with the wide receiver corps. In 2019, WR Jamison Crowder led the team in receptions (78), receiving yards (833) and touchdowns (6), and he will return for this upcoming year. After Robby Anderson, who was among the top three offensive producers last year, agreed to terms with the Carolina Panthers, Douglas quickly signed former Buccaneers speedster Breshad Perriman. It was the second former first-round receiver who joined the Jets this offseason with as Douglas also inked Josh Doctson in February.  The 6'2", 205-pound Doctson, a TCU product, caught 79 passes for 1,034 yards and eight touchdowns in Washington from 2017-18.
Baldinger believes the Jets could find enticing wideout options in the upcoming draft as well.
"There's tremendous depth — and not just depth, but variety — at wide receiver," said Baldinger. "Maybe as wide of a variety and deep of a variety as we have ever seen. If you want slot receivers that are small, shifty, fast and quick, they have those. If you want big, game-changing type wide receivers on the outside, they have those. It's as deep of a wide receiver draft as we have ever seen. There are some guys at the very top end of this that are better than others. It's also a good draft for offensive tackles in the first round."