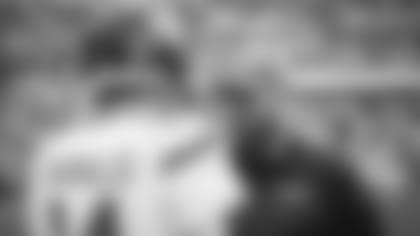 Facing the most unique season in NFL history and following a lot of roster turnover including the recent trade of a star player who was a former captain, the Jets will need strong leadership more than ever in 2020. And as his team continues to undergo daily COVID-19 testing and is set to begin its strength & conditioning acclimation period, second-year head coach Adam Gase believes he has an excellent group ready to navigate the uncharted waters ahead.
"That is probably an area I feel great about right now as far as our leadership goes," Gase told reporters this week. "When you are lucky enough to coach a team that has a Steve McLendon on it, Jordan Jenkins, Brian Poole, Alex Lewis, Sam (Darnold), Le'Veon (Bell), (Jamison) Crowder, Jonotthan Harrison and Brian Winters, you have guys that have experience and you have guys that are very strong-minded."
Even though Jamal Adams is now a Seattle Seahawk, the Jets believe they have created a healthy culture that will be able to withstand in the short-term one of the most significant trades in franchise history. In addition to Gase mentioning names for every level on defense in McLendon (DT), Jenkins (OLB) and Poole (CB), the Green & White also expect to have a healthy return of one of the league's quietest assassins in ILB C.J. Mosley.
"You have guys that are unbelievable character people that are always trying to do the right things and not afraid to step outside their comfort zone to help other people," Gase said. "When you are in a situation like I am right as the head coach and you are able to turn to a ton of different guys to talk through things and to find out their opinion on things, it's a good feeling to have."
Marcus Maye, a partner of Adams for three seasons, has always been thought of as the QB of the secondary and new defensive backfield mates Pierre Desir and Bradley McDougald, who was part of the package acquired from Seattle, have been thought of as quality teammates throughout their careers.
On the offensive side of the ball, Gase continues to talk about Sam Darnold being an extension of the coaching staff. The third-year QB has expressed confidence in delivering teachings to rookies and new veterans alike. GM Joe Douglas also added a former Super Bowl MVP behind Darnold in Joe Flacco and the NFL's third all-time leading rusher in Frank Gore. The 28-year-old Bell, among the group Gase praised and who also traded verbal barbs with Adams following the Jets-Seahawks swap, is a player motivated to remind people he remains an elite performer.
"I know that the addition of beefing up our offensive line and adding the guys that we've added up there and kind of mixing those guys in with the guys that we've already had, I think that is going to be extremely helpful," Gase said. "I think we spent a lot of time this offseason studying and making sure we can find different ways for him to get the ball, whether it be in the passing game or in the run game. It's one of those training camps, where you got a guy that has done what he's done and he's looking to prove to people that he is still at the top of his game — I'm excited to see that."
Gase, who guided the Jets to a 6-2 mark in last season's second half, called last weekend's trade a win-win for both clubs. But he's already turned the page and is happy with the players his staff will be coaching this summer and on into the fall.
"We've talked from the beginning, it is all about the locker room," Gase said of his communications with Douglas. "That's where it is going to start and end and making sure that when that group is tight, then that is going to give us our best chance to win games. I've really liked how this group has worked so far. It will be exciting to see these guys get on the field and come together and see what we can do."