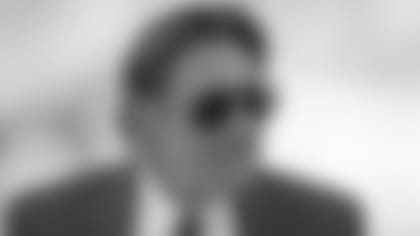 Joe Namath's new book, All the Way: My Life in Four Quarters, has been out for a week now and it's been well received. After all the other books Namath has participated in over the years, this one is his most personal, as Joe, who seems to be in a great place as his 76th birthday approaches, candidly discusses details of his education in football and life.
It's all framed up in a "four quarters" format in which he revisits Super Bowl III. As the Jets' legendary quarterback says, there's not much more that can be revealed about the 16-7 win over the Colts 50 years ago. But on reviewing the game video one more time, he still provides nuggets for Jets fans about things he saw and felt before, during and after the game, things he wasn't aware of until he began researching the book, and conversations he had with his teammates reflecting on that watershed Green & White victory.
Joe spoke with me about the book in the last few days. Here are seven questions and answers from our conversation:
Are you happy with how the book turned out?
"Well, you know, the people that I work with and the publisher, I think they've been positive about it. Let's say we've had some nice comments from some critics and I'm happy about that, but you and I both know that there's going to be different points of view and that's the way it is. I'm happy personally. It was a real difficult time getting through, getting it accomplished, and I'm reasonably pleased with the way it came together."
Why do this book at this time?
"People in general were talking about the 50th anniversary of our victory. It's been a major part of my life and I'm so thankful because people remember that game or their parents told them about it, it's been reviewed time and again. Because of the anniversary, the year before, it started to evolve, and being approached by a publisher, I felt like they knew there was a potential market for it.
"And having lived some of life so far and trying to explain myself to a degree, it is early fourth quarter now, there's a lot of things that transpired since we won the championship. But also the championship, taking our fans through that process, using it as the basis, the rock of the book, that's basically why we did it ... and it evolved into a good idea."
Did you feel you had to "set the record straight" on any stories about your life?
"Well, no, I've had the opportunity in the past to share things, and anytime I've done that, I've done it from my gut, my heart. If something's not understood, either I haven't explained it properly or someone just wants to look at from another side, you know. It's different points of view. Controversy feeds us, it feeds society. Everyone's not going to be on the same page all the time.
"I don't like looking over my shoulder. I had that experience as a teenager, in college. I got paranoid when I did things incorrectly or out of bounds, that I had to look over my shoulder, so to speak, and worry about the consequences. So I learned, let's be straight to start with and deal with it now."
Was it difficult for you in some chapters to bare your soul as you did?
"It's sensitive, of course, but not so difficult, since as we mentioned I have lived a lit bit of time here and I have shared some things. No, that's not difficult. I really don't like feeling negative about anything. I certainly don't like saying negative things about others, whether it's my family or my friends. Dealing with negativity, baring my soul ... I try to be as honest as I can without harming anyone else.
"I can shoulder what critiquing comes from the world about how I've conducted myself. I've made mistakes, certainly. But I also want to express to people that are willing to read or pay attention to something I say, hey, we all make mistakes, you know. We are not perfect by any stretch. But recognizing errors and mistakes and trying to do something about them, correct them is important. And I do want youngsters, my grandchildren, other adults to know, OK, let's not run away from it, let's correct it and move forward."
Are there any Super Bowl anecdotes in the book that you haven't told before?
"Oh, man, I have talked over the last 50 years so much about the events leading up to and through the game, I don't think there's anything about that that I'm willing to tell. [Laughs] There is maybe an event or two leading up to the game during the week or whatever that I choose not to share because some things you just don't talk about, especially if it deals with someone else."
You spoke several times in the book about being a Gemini. Do you pay attention to astrology?
"I started paying attention to it more often than not. I believe it. I question myself, I say, wow, where did that thought come from? Yeah, I know I look at things a couple of different ways and I've become somewhat of a believer in that, my astrological sign, the characteristics of people. And one thing I think is in the book, one my teammates, one of the times I may have stepped out of line with some team rules or something, I told him, 'Dang, I don't know why I did that, I don't know how that happened.' And he said, 'Joe, you've got to stop using that Gemini stuff as an excuse.' And I'd say, 'But it's real!' I'm keen on being a Gemini and I feel good about that."
The football relationships you formed with Alabama coach Bear Bryant and with the Jets' owners, Sonny Werblin and Leon Hess, are important cornerstones of this book.
"I was lucky, especially in the sports world and with businessmen. That thing that Coach Bryant said, 'Get to know the people you're going to work with.' I got to know Mr. Hess, Mr. Werblin and the Jets leadership, they helped me. And Weeb Ewbank — as a player, what young quarterback wouldn't want to play for a man that had already won a championship and that coached your idol, a football guy you wanted to be like in Johnny Unitas?
"So listening to mentors, listening to coaches, I was fortunate. And I knew it wasn't all about me for a long time. I mean, being the youngest in the family and having three older brothers and a sister, man, you find out that you don't know it all and it's not all about you and you've got to earn your way."