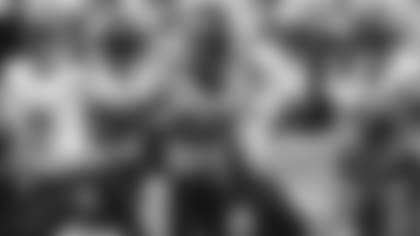 The Jets make their annual trek to Foxboro to play the Patriots on Sunday. And it will be riveting for the players and coaches and fans to see how the Green & White, after coming up short two games ago at MetLife in New England's 22-17 win, match up as the away team in this rivalry. A win would not only end a few Jets droughts at the hands of the Patriots but would also give them a piece of the AFC East lead.
But as Robert Saleh says a lot, "Let's keep the main thing the main thing." About this game with the Patriots, the head coach said this week about first place and playoff talk: "Obviously, this game coming up is the most important game. There's so much football to play before we even think about what's at stake."
Here are five players in green and white and, this year of course, black to keep tabs on as they maneuver around Gillette Stadium and try to nail down Win No. 7 on the season and Win No. 1 over the Patriots since 2015:
QB Zach Wilson — It's time to study the Jets QB again and see how he fares against New England on the road. In general, his play against the Patriots has not been as sharp as against the rest of the NFL. He has two touchdown passes to seven interceptions vs. the Pats, 11 to nine vs. the rest of the league. His drives have actually been longer in his three NE games compared to the league, but they don't end as well — 7.5% TD drive rate (Pats) to 18.6% rate (rest of NFL), 26.4% turnover drive rate to 6.8%. For the Jets to succeed in Foxboro, Wilson will need a game similar to his economical, winning QB play against Buffalo: fewer interceptions, more TD/scoring drives.
RB Michael Carter — The Patriots' pass defense rankings, in particular their INT rate and sack rate, are top-five-ish in the NFL. Their run defense, not so much, especially in yielding 4.66 yards/carry (22nd). Carter, James Robinson and Ty Johnson have been bringing the Jets' run game metrics up slowly but steadily. And Carter personally has been heating up since Breece Hall's injury. He averaged 6.3 yards/carry vs. the Bills, a season-high 5.7 yards after first contact. And those who examine Next Gen Stats know that MC has produced season highs the past two games in average miles/hour at the line of scrimmage (11.11 vs. NE, 12.19 vs. BUF). Might this be a season highlight ground attack game for Carter?
Edge rushers Carl Lawson and John Franklin-Myers — Patriots QB Mac Jones started slow in year two before leading wins the past two games, at the Jets and vs. the Colts. But he's still sackable and especially pick-off-able (worst INT rate of 4.2% among 35 qualifying QBs). Quinnen Williams has been leading the charge vs. the run and in applying inside pressure, and both Lawson and JFM have had big games. But in October, Lawson had one sack, one QB hit and one QB pressure vs. the Patriots while Franklin-Myers had a sack, a QBH and three pressures — and also was flagged for the late hit on Jones that wiped out the 84-yard INT-return score by Michael Carter II. Whatever their motivation Sunday, it'll be worth eyeballing the Jets flying off the edge.
CB Sauce Gardner — Fans may have noticed the give-and-take between the Jets rookie corner who plays like a seasoned veteran and Pro Football Focus, which debited Gardner for the 5-yard TD pass from Jones to WR Jakobi Meyers two games ago. Sauce tweeted without mentioning names, "I came off my man to make a tackle." Soon after, PFF bumped up Gardner's game rating. While the Patriots' wideouts have had a quiet first half, they can be dangerous for Gardner, D.J. Reed and nickel Carter. DeVante Parker is back at practice from a knee sprain, and Meyers leads the team with 40 catches and three TDs. And in his seven career games vs. the Jets, he's caught 43 passes on 54 targets — an 80% completion rate. Who's got whom when the Pats are on offense is worth focusing on.