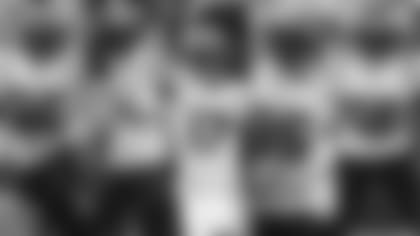 Empower Field at Mile High has not been very empowering of late for the Jets, who have lost four of their last five in Denver, three of them by shutouts in 2005, '17 and last season.
But the Green & White are feeling the energy as they attempt to improve to 4-0 on the road and 5-2 overall both for the first time since 2010. Meanwhile, the 2-4 Broncos could be feeling fatigued after dropping three in a row, the last two in overtime
Here are five Jets players to keep an eye on and see if they can buck that Broncos hex with another big road win in Week 7:
RB Breece Hall — Why not watch catch the Breece again after Hall lit it up for 100 receiving yards and 197 total yards vs. Miami and 116 rushing yards at Green Bay? He has a seasoned-pro mad-dash style about him, and he's only the fourth NFL rookie since 1970 to have a 100-yard rushing game and 100-yard receiving game in his first six games as a pro. Michael Carter's in the mix as well and the O-line is set to enjoy the luxury of playing in the third straight game with the same starting lineup against a Denver run defense that has yielded 4.41 yards/carry, 16th in the league. The ground game could be Zach Wilson and the Jets' featured offensive unit for a second consecutive game.
WRs Corey Davis and Garrett Wilson — We picked Elijah Moore to watch vs. the Pack and that didn't work out so well with 32 offensive plays and no targets for Moore in the Jets' subdued passing game. Moore will still have his explosion game and soon, but this week we could see a few big and telling plays from Davis and Wilson against the Broncos' strong defense (fifth in net pass yards/game, first in yards/pass play). Davis had a key 41-yard downfield grab from Z.Wilson in GB, and five of his catches, most on the team, have gone for 20-plus yards. G.Wilson looked like he would be the rookie phenom after his eight-catch, 102-yard, two-TD Game 2 at Cleveland but hasn't caught fire like that again. If the Jets can run the ball like they did at Green Bay, hitting the wideouts down the field could be a pivotal matchup in the game.
DL Quinnen Williams — "Q" was on a Green Bay shopping spree. He collected the third two-sack game of his Jets career, his second strip sack, his fourth game of three QB hits, and his first blocked field goal. His running mate has been Carl Lawson and the two are thumping QBs in the first six games — Lawson with 14 hits, tied for second in the NFL, Williams with 11, tied for sixth. But Quinnen seems to be rising now and it will be interesting to see how the D-line stunts and pressures Russell Wilson, who is the fourth-most-sacked QB in the NFL this season and has had difficulty finding his accuracy (58.6%) and generating touchdowns (7 TD drives in 6 games) from his Seattle heyday.
LB Quincy Williams — Sure, Quincy's younger bro had a career game at Lambeau, and C.J. Mosley turned in his usual 10 plus tackles. But the older Williams, in his first game after missing two with a high ankle sprain, was a qualitative and quantitative success with 14 tackles, second most in a game in his career. He and the Jets' run defense will need to sit on Denver's ground game, which is struggling. Javonte Williams (knee) is out for the season, while Melvin Gordon played only the first quarter vs. the Chargers on MNF before Latavius Murray finished up. The Broncos are 22nd in total offense and 19th rushing, promising rankings since the Jets slowed the Packers, who came in last week ninth overall and 11th rushing, for their season-low 60 yards, so turning the Broncs' offense one-dimensional is certainly doable.