The Jets will begin their Organized Team Activity (OTA) portion of their offseason program next Tuesday, May 27. They will have 10 OTAs in all — where no live contact is permitted — and three of those sessions will be open to the media.
There are intriguing storylines on both sides of the ball and today we examine the offense.
Will Geno Smith fend off the impending push from Michael Vick?
The Jets want Smith to start where he left off in 2013, totaling seven touchdowns the final quarter of the season while being intercepted just twice. During that 3-1 stretch, Smith completed 58.2% of his passes and averaged 46.5 yards per game on the ground. He was a true dual-threat and he became more of a decisive decision-maker.
Enter Mike Vick, arguably the greatest dual-threat in the history of the league. Despite turning 34 in June, Vick remains a rare athletic talent and this is a signal caller who has experienced success under Marty Mornhinweg before. Will Vick's presence help take Smith to the next level or will the man who outdueled Nick Foles at Eagles training camp last summer rise up and emerge as the No. 1 option?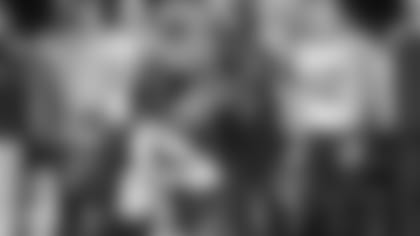 Who is the Jets No. 2 WR?
At a rookie minicamp news conference last week, Rex Ryan said, "From top to bottom, it's a much better group of receivers than we had probably at any point last year."
Eric Decker, who signed with the Jets on March 13, becomes the No. 1 guy on the depth chart after averaging 86 catches, 1,176 yards and 12 TDs the past two seasons in Denver. Jeremy Kerley, who led the Jets in both receptions (43) and receiving yards (523) for a second consecutive season, is an underrated slot receiver. But who will emerge opposite Decker?
It is really anyone's guess at this point. The Jets have depth at the position, but you wouldn't say there really is a favorite. David Nelson, who finished second on the team with 36 receptions in 12 games of action, is a big target at 6'5", 215 pounds and he has dependable hands. Stephen Hill has all the measurables, but he has had difficulty staying healthy and this is a vital offseason for the former second-rounder from Georgia Tech. Clyde Gates is a burner, but he has had trouble staying on the field as well. Rookie Shaq Evans, a fourth-round pick from UCLA, will be in catch-up mode once he returns in June because he has to go back to SoCal to finish up classes. Jacoby Ford, who figures to be the club's top kick returner, can fly and might benefit from a change of scenery in Mornhinweg's West Coast offense. Jalen Saunders has some spice to his game and it will be fun watching the tiny — yet tough —playmaker once the pads go on.
There also remains a possibility that the No. 2 wideout isn't a Jet.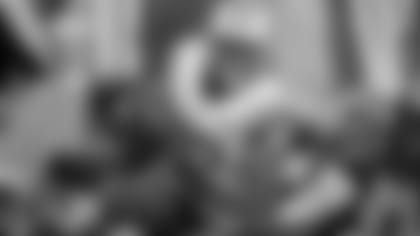 Just how much more potent will the Jets be on offense?
In a scoring league, the Jets ranked 29th last year at 18.1 points per contest. They were 7-1 in games when they scored 20 or more and they finished 31st in passing (183 ypg) with an inconsistent rookie QB at the controls.
The Green & White should be able to keep scoreboard operators active next fall. Eric Decker's 32 TDs over the past three seasons rank third amongst NFL receivers. Running back Chris Johnson, who has averaged 4.6 yards a carry throughout his career and totaled 58 TDs (50 Rush & 8 Pass) with the Titans, is going to be a huge asset in the pass game. The 5'11", 203-pounder averaged 45 receptions in Tennessee and remains deadly in space. Rookie tight end Jace Amaro, a huge man at 6'5", 265 pounds, isn't promising miracles. But the Texas Tech product, coming off a 106-catch campaign at Texas Tech, should be a matchup problem for opposing defenses. Both veteran Jacoby Ford, who signed in free agency, and rookie Jalen Saunders, a fourth-rounder from Oklahoma, could help in the return game and with their receiving skills as well. Their speed underneath should open things up down the field.
The Jets re-signed TE Jeff Cumberland and Cumby could be poised for a breakout season. The run game was a strength last season and it has the potential to be better in 2014. When defenses stack the box, even more things will open up through the air.
If the Jets can get to the middle of the pack in scoring offense, there is no reason they shouldn't be playoff bound. Last season, the Cards and the Steelers T16 in scoring at 23.7 points a game.
How will the distribution work amongst the running backs?
The Jets have quietly developed excellent depth at a number of positions. Nowhere is that more evident than RB where CJ2K has joined a backfield featuring Chris Ivory, who led the Jets with 833 yards on the ground and 8 carries of 20+ yards, and Bilal Powell, whose 969 total yards (697 rush & 272 receiving) paced the Green & White in 2013. Mike Goodson had a tough first season, but Goody is as explosive as they come if healthy. Even Darryl Richardson, a third-year player claimed off waivers from the Rams, brings some versatility to the position.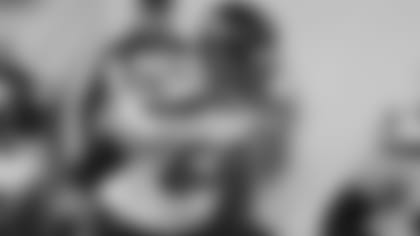 What will the Jets get out of the right side of their offensive line?
All starters return up front minus RT where former Seahawk Breno Giacomini steps in for the departed Austin Howard (Oakland Raiders). While not as athletic as Howard, Giacomini is nastier and brings more edge to the room. Willie Colon, a 31-year-old mauler and leader, is back at RG. Despite suffering a biceps tear in the season finale against the Dolphins, Colon should be ready to roll by training camp. The Jets have to like their depth at OL and would love to see Will Campbell, a sixth-round pick out of Michigan in 2013, and 2014 fourth-rounder Dakota Dozier, a 6'4", 313-pounder from Furman, push for time as well.