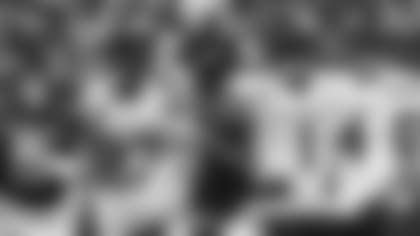 Robert Saleh has this Week 17 tightrope to cross. So far, he's keeping his balance as well as keeping his team focused on the big goal for the final two weeks of the regular season.
"This isn't about the playoffs," the Jets' head coach said after the sodden Thursday night home loss to Jacksonville. But after results fell the Jets' way over the weekend, Saleh said, "I'm sure there's going to be excitement, naturally ... I get it," followed by keeping the main thing the main thing: "My messaging, our messaging doesn't change from what we talked about on Friday."
Which Green & White players might the spotlight be on Sunday? Here are five to watch as the Jets, in their coach's words, try to "stay connected to this moment in Seattle, and only Seattle."
QB Mike White — Time again to train the binoculars on White, whom Saleh has named the Jets starter, barring injury, for these last two RS games. The tough, cool customer from South Florida has posted some excellent numbers in his first seven pro games over the past two years: 168 completions in 261 attempts, 64.4% accuracy, for 1,905 yards and a pair of superb three-TD games, vs. Cincinnati last year and Chicago this year. Lumen Field's "12th Man" will test him and the offense, and he needs to cut back on the interceptions. But if White gets protection from his line, which has been under the gun the past two games, he should be able to find his receivers and do his part in these next two crucial weeks.
RB Zonovan Knight — Before White can hook up with Garrett Wilson and his WRs and perhaps a long TE connection or three, the QB will really need a running attack. Rookie Bam Knight and Michael Carter were contained by the Jaguars' 16th-ranked run defense but Knight had been explosive his first three games as the featured RB and needs to find some creases in Seattle's vulnerable run defense Sunday. The Seahawks are ranked 31st in the NFL vs. the run and have yielded eight games of 150-plus rush yards to their opponents, most recently to the Raiders, Panthers and 49ers in their last three home games. It's doable, but can the Jets do it?
DL Carl Lawson — We keep alternating between Quinnen Williams and Lawson for D-line players to watch. It's Lawson's turn, in large part because he'll be launching himself toward Seahawks starter and former Jets QB Geno Smith's blind side while going up against rookie LT Charles Cross. who according to StatsPass has yielded five of the 39 sacks of Smith and committed six penalties. Lawson has forced a team-leading six flags on Jets opponents and has six sacks — most since his 2017 rookie year with the Bengals — and 21 QB hits. Also worth a matchup mention: Fellow DL John Franklin-Myers vs. RT Abraham Lucas, who's unofficially given up a team-high 7.5 sacks of Smith.
CBs Sauce Gardner and D.J. Reed — Arguably the top WR tandem over the last four NFL seasons is Seattle's Tyler Lockett and DK Metcalf. Since '19 the two have combined to average 159 catches and 2,106 yards per season. They've also caught 69 TD passes together. Most of that was with Russell Wilson but there's been no dropoff working with Geno this year. Gardner is the rookie Pro Bowler at LCB, while Saleh says of RCB D.J. Reed, "You can argue he's been playing at a Pro Bowl level, too." But before this year's PB Games comes the Jets' PO push, and the two corners plus nickel Michael Carter II don't have to be reminded they'll need to be at the top of their game to prevail in the Great Northwest.